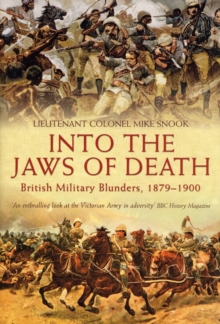 Into the Jaws of Death: British Military Blunders, 1879-1900
Hardback
Description
Between the Crimean War and the dawn of the 20th century, the British Army was almost continuously engaged in one corner of the globe or another, in military operations famously characterized by Kipling as the 'savage wars of peace'.
In his new work on the most dramatic Victorian campaigns Mike Snook bring's the most dramatic clashes of the age of empire back to life.
Here focuses closely on defeat and disaster - the occasions when things went badly awry for the British.
The names of these great battles - Isandlwana, Maiwand, Majuba Hill, Khartoum, Colenso, Spion Kop and Magersfontein still resonate down through the ages.
In a meticulously researched military history, the author exposes the true and sometimes embarrassing causes of defeat.
Overstretch, political meddling, military incompetence and petty jealousy all played their part.
Above all else, however, these are dramatic and perceptive accounts of mere mortal men struggling to deal with the often overpowering dynamics and horrors of 19th-century warfare on the fringes of Empire.
Information
Format: Hardback
Pages: 384 pages, 24pp B&W Photos
Publisher: Pen & Sword Books Ltd
Publication Date: 18/02/2008
Category: British & Irish history
ISBN: 9781844157068
Also by Mike Snook