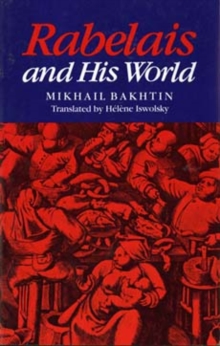 Rabelais and His World
Paperback
Description
This classic work by the Russian philosopher and literary theorist Mikhail Bakhtin (1895-1975) examines popular humor and folk culture in the Middle Ages and the Renaissance.
One of the essential texts of a theorist who is rapidly becoming a major reference in contemporary thought, Rabelais and His World is essential reading for anyone interested in problems of language and text and in cultural interpretation.
Free Home Delivery
on all orders
Pick up orders
from local bookshops
Reviews
Showing 1 - 1 of 1 reviews.
Review by baswood
16/06/2015
My recent (over the last couple of years) reading of Medieval literature and renaissance literature has taught me that to appreciate their works it is essential to approach the authors on their own terms as far as possible. This of course means that there is some reading to be done to enable one to understand something of the life and times in which the authors lived. It is also beneficial to have an understanding of etymology and of the writings and thoughts that influenced men (and some women) of letters. Approaching texts solely from a 21st century standpoint will give a different reading experience and in my view one that tells only a part of the story. Bakhtin's book on Rabelais starts from the premise that Rabelais has been seriously misunderstood by 20th century critics because they failed to engage with important aspects of life in the 16th century which shaped Rabelais magnum opus Gargantua and Pantagruel.Rabelais and his world was Mikhail Bakhtins first book to be published in English when it appeared in 1968, it had enjoyed a stormy reception when it was first published in Russia some years earlier, but now it is considered a classic on the subject of the renaissance.Bakhtin provided a summary of many of the essential points of his book in a sort of closing statement where he says:<I> "The main failure of contemporary West-European Rabelaisiana consists in the fact that it ignores folk culture and tries to fit Francois Rabelais novel into a framework of official culture, to conceive it as following the stream of "great" French literature. Because of this misinterpretation Rabelais scholars are unable to master that which is most essential in the novel..........Rabelais inherited and brought to fulfilment thousands of years of folk humour. His work is the unique key for the understanding of this culture in its most powerful, deep, and original manifestation...........While analysing past ages we are too often obliged "to take each epoch at it's word", that is to believe it's official ideologists. We do not hear the voice of the people and cannot find and decipher it's pure unmixed expression."</i>Just what it is that those 20th century critics missed is the subject of Bakhtin's book. Firstly they failed to take into account the importance of the culture of the carnival and the market place which were essential qualities of late medieval and Renaissance life. This culture of the carnival was based on laughter and laughter to some extent alleviated the fear of day to day existence and certainly the fear of God that was an essential part of religious life. This second life outside of the world of officialdom was used extensively in Gargantua and Pantegruel by Rabelais and failure to understand this culture which Bakhtin calls folk culture makes it impossible to understand 16th century literature and Rabelais in particular. Bakhtin says that by using grotesque realism Rabelais was able to present a contradictory and double faced portrait of renaissance life, a life that consisted both of official and folk culture and Bakhtin backs up his thesis with plenty of examples from both Gargantua and Pantegruel. Another essential element of Rabelais ideas is his use of grotesque realism, which includes exaggerated images of bodily functions and is not just a list of vulgarities but goes further; laying stress on their regenerative powers. The outlook for mankind is optimistic despite all the filth and crap that surrounds us, because it is precisely from this that we are reborn. Secondly critics have failed to take into account Rabelais' use of words and the changing face of the language in the sixteenth century. Rabelais wrote Gargantua and Pantegruel in the vernacular (earlier it they would have been written in Latin) but it was at a time when the vernacular was undergoing substantial change. Bakhtin points out that Rabelais use of language was unique especially his usage of words gathered from the market place, that would never have been written down before. From Bakhtins perspective Rabelais was a unique chronicler of his life and times and for this reason alone he is an important force in world literature.The whole story of Rabelais and his importance is probably not told in Bakhtin's book, however it would seem to me that an essential part of that story is here and it is a part that has not been understood properly previously. It is a book of ideas and as such is worth reading by anybody interested in Rabelais and certainly anybody interested in the renaissance. I have still to read Gargantua and Pantegruel and at over a 1000 pages in the penguin classics edition they are not tomes that I would want to re-read anytime soon and so having Bakhtin's thoughts in my head, will I am sure enhance my reading experience. [Rabelais and his world] has been translated by Helene Iswolsky, which is very readable, the book itself can be a little repetitive but when dealing with such original ideas on a subject, it is good to have those thoughts re-stated in ways that add to our understanding and I found that Bakhtin achieves this with his summaries that appear throughout the book. An impressive work that goes beyond literary criticism and takes the reader into the realms of reinterpreting a period of history that is original and thought provoking. A 4.5 star read.