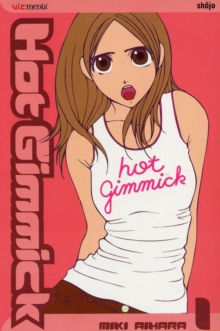 Hot Gimmick : v. 1
Paperback
Description
In company-owned rabbit-hutch apartments live tenants who can't afford to live anywhere else, and the apartment complex in which high-school girl Hatsumi Narita lives is ruled over by the rumour mongering, self-righteous Mrs. Tachibana. Get on Tachibana's bad side, and life becomes hell. When Hatsumi has to buy a pregnancy test because her popular sister Akane is late, Mrs. Tachibana's son, Ryoki, who used to bully Hatsumi as a kid, promises not to tell the world about Hatsumi's secret if she becomes his slave.
Suddenly Azusa, Hatsumi's protector in their youth, reappears to save her again!
He's moving back into the neighbourhood! Despite the budding romance between Hatsumi and Azusa, Ryoki has control over her through the secret that could ruin the lives of everyone in Hatsumi's family, and he hasn't forgotten who his slave is!
Information
Format: Paperback
Pages: 192 pages, chiefly Illustrations
Publisher: Viz Media, Subs. of Shogakukan Inc
Publication Date: 01/12/2003
Category: Manga
ISBN: 9781591162148
Free Home Delivery
on all orders
Pick up orders
from local bookshops
Reviews
Showing 1 - 4 of 4 reviews.
Review by sweetmarie9
16/06/2015
Kind of like a bad soap opera at times, but SO ADDICTING!
Review by relientkatie
16/06/2015
Sixteen-year-old Hatsumi lives with her family in company housing, where Mrs. Tachibana rules over the tenants by threatening them with social or professional ruin. When Hatsumi's younger sister, Akane, thinks she might be pregnant, she begs Hatsumi to pick up a pregnancy test for her. Mrs. Tachibana's son, Ryouki, catches her with the test and mistakenly believes that it's for her, and when Hatsumi corrects him, he threatens to tell his mother that Akane, a junior high school student, is pregnant. To protect her family, Hatsumi becomes Ryouki's "slave." Luckily, her childhood friend, Azusa, has returned to the city, and he steps in to protect her from Ryouki. This graphic novel was weirdly addictive. I thought it was disgusting and unbelievably lame, but when I was done, I was a little disappointed that it was over. Figure that one out. That said, I can't find any way to defend this book. I was particularly put off by the portrayal of women. Hatsumi has miserable self-esteem from the beginning. She says that she's stupid and ugly, and she allows herself to be manipulated and mistreated by Akane, Azusa, and Ryouki. Akane is simple and promiscuous; all other girls are shown fawning over Azusa and acting catty. Plus, there seems to be this implicit idea that Ryouki is secretly in love with Hatsumi, like he's some kind of anti-hero when in reality he's disgusting. It really bothers me that some girls might get the idea from this book that a person who treats you that way loves you (or that boys would get the idea that it's okay to treat someone that way, though this book seems like it would appeal more to girls.)I didn't mean to rant on and on, but there was a lot to dislike about this book - I won't even get started on how creepy the sexual content was. I would have to recommend this for ages 16 and up, if I were to recommend it at all.
Review by A_Reader_of_Fictions
16/06/2015
Hot Gimmick is a series I have read before, and, though I didn't like it, I really wanted to review it, thus the rereading. Anyway, pretty much the whole thing pisses me off, because the series is pretty much entirely about Hatsumi being taken advantage of by every single guy in her life. Hatsumi herself seems to have no ability to see through dishonesty, willpower to resist romantic attacks or strength. This series is where feminism goes to die.<br/><br/>Guy #1: Ryouki. At the outset, we are introduced to Hatsumi, who is the slave to the stern, bullying, sexually harassing, glasses-wearing guy who lives in her building. Why? Because he caught her buying a pregnancy test for her younger sister. If he tells his mother, who controls the housing complex, her family would get kicked out. So, of course, this gives him the right to try to force her to have sex with him. I think we're supposed to like him, because it's obvious that he's really into her and is only treating her like shit because he doesn't know how to handle his emotions. Yeah, not feeling that AT ALL.<br/><br/>Guy #2: Azusa. He's Hatsumi's childhood friend, who would try to protect her from Ryouki's bullying. His family just moved back to town and he's supporting her again. They quickly start dating, because he's so sweet and hot (model), and she's had enough of putting up with Ryouki (only she still lets him do whatever he wants). Except, le shock!, Azusa is actually just dating her to piss off someone to get vengeance for something. Awesome.<br/><br/>Guy #3: Shinogu. Presenting the only nice guy in the series. Surprise! He's her brother. Okay, so they're not actually siblings by blood, but they have been raised that way. He knows they're not related and has been in love with her forever, but she doesn't know, so sees him just as her brother. Clearly, he would be her best choice despite the super awkwardness that would be involved, however, he also has no shot because he's been raised as her brother. Isn't it lovely that dating her brother is what you have to root for, because everyone else is just trying to rape her or seduce her to their own ends?<br/><br/>When it comes down to it, though, this series is very readable, in the same way that a lot of very frustrating books are (think Twilight or maybe this Fifty Shades of Grey I've heard about). Clearly, women are useless, stupid clumsy creatures to be fought over and/or won by studly males. Ugh! As much as I hated that, the story moves along at a swift pace and I do like the art. Thus the 2.5, which I kind of hate myself for.<br/><br/>If you like strong heroines and respectful menfolk, do not read this. However, if you want to read something to prepare you for a feminist rant, this will definitely get you fighting mad.
Review by Jellyn
16/06/2015
So this guy blackmails this girl into being his slave, including doing sexual favors for him. (No actual sex. Yet.) Too skeevy and otherwise boring for me to continue reading this series.
Also in the Hot Gimmick series | View all