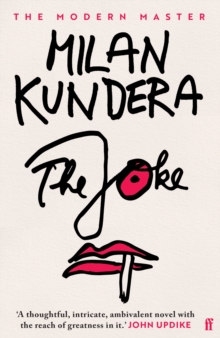 Description
The Joke, Milan Kundera's first novel, gained him a huge following in his own country and launched his worldwide literary reputation. In his foreword Kundera explains why this completely revised translation is the definitive edition of his work.'It is impossible to do justice here to the subtleties, comedy and wisdom of this very beautiful novel. The author of The Joke is clearly one of the best to be found anywhere.' Salman Rushdie, Observer
Information
Format: Paperback
Pages: 336 pages
Publisher: Faber & Faber
Publication Date: 03/01/1998
ISBN: 9780571166930
Free Home Delivery
on all orders
Pick up orders
from local bookshops
Reviews
Showing 1 - 3 of 3 reviews.
Review by lriley
16/06/2015
Set in Soviet controlled Czechoslovakia before the Prague Spring--the main protagonist one Ludvik a young and popular communist university student makes the mistake of sending a postcard to a girl he's smitten with that seems to almost draw down the entire wrath of the system upon his head. Chucked out of the party and forced out of the university he is then blackmarked in his hometown (even by his family) as a kind of pariah and earmarked for a labor batallion working in a coal mine. Many years pass and he runs into another old flame (one that it's too late to rekindle) at just about the same time as his plan for revenge is about to be put into play against his main prosecutor who in his mind not only judged him but also betrayed him. Nothing has ever seemed to work out as he hoped. This time he expects a quite different result--and so he seduces his former friends wife--only to find out after the fact that that marraige has already fallen apart and now not only does he have a woman on his hands that he has no interest in but also one that has fallen hopelessly in love with him. The moral being that people move on in life and that the power to change or rectify the past is limited at best--and can do more harm than good. Of the Kundera books that I've read I think I like this one the best. As translated by Michael Henry Heim however Kundera was not altogether happy and it has been retranslated more to his liking by another translator. It is an interesting and insightful book that delves into not only the power of tyrranical totalitarian politics but also into philosophical, pyschological and sexual politics. Very fluid in style of prose and also at times quite humorous--I found it a very enjoyable read.
Review by marek2009
16/06/2015
A tremendously subtle book about human relationships, politics, history, & very much more. It impressed me profoundly, the best of three Kunderas I have read so far.
Review by palaverofbirds
16/06/2015
Read this book in my spare time during a short stint working in a bookstore and it immediately and I dare say permanently lodged itself into my list of beloved books.<br/><br/>Why this book's rating lies below four stars befuddles me. It's an exciting and provocative tale of the dehumanization of a person by an autocratic state. Fuck 1984 and Brave New World; Kundera saw them all and raised.