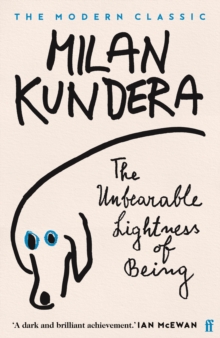 The Unbearable Lightness of Being
Paperback
Description
In this novel - a story of irreconcilable loves and infidelities - Milan Kundera addresses himself to the nature of twentieth-century 'Being' In a world in which lives are shaped by irrevocable choices and by fortuitous events, a world in which everything occurs but once, existence seems to lose its substance, its weight.
We feel, says the novelist, 'the unbearable lightness of being' - not only as the consequence of our private acts but also in the public sphere, and the two inevitably intertwine.
Juxtaposing Prague, Geneva, Thailand and the United States, this masterly novel encompasses the extremes of comedy and tragedy, and embraces, it seems, all aspects of human existence.
It offers a wide range of brilliant and amusing philosophical speculations and it descants on a variety of styles.
Information
Format: Paperback
Pages: 320 pages
Publisher: Faber & Faber
Publication Date: 29/04/1985
ISBN: 9780571135394
Free Home Delivery
on all orders
Pick up orders
from local bookshops
Reviews
Showing 1 - 5 of 5 reviews.
Review by dylanwolf
16/06/2015
A deeply philosophical and moving European novel set in Prague during and after the Soviet invasion. Tereza is a photographer - recording at some personal danger the events happening around her and undermined by the infidelities of her husband Tomas and her past childhood experiences. Tomas is a philanderer who can separate his love for his wife from the string of sexual encounters he pursues with other women. Falling foul of the Soviets Tomas loses his job as a surgeon. The novel explores the various aspects of life under occupation - this a thoughtful and deep novel revealing the individual realities of Czechoslovakian society in that historic time.
Review by theboylatham
16/06/2015
7/10.
Really interesting book that focuses on various everyday philosophical conundrums.
Review by jmegawarne
16/06/2015
Kundera's construction of the strange relationship between a married couple and the chain of lovers connected to them is not simply there to be sexually charged. It is a beautifully poignant treatise on the nature of love and its relationship to meaning and existence. The wife's tribulations evoke such an addictive sadness in the reader that you are compelled to bury yourself deeper into the covers and press on with what would ordinarily feel like a forbidden voyeuristic insight into the characters' interactions.Being unable to read the original text, but having felt quite moved by the quality of the text regardless, I can only assume that this particular edition is a mastery of translation. While the philosophical diversions can be a occassionally lofty and clichéd at points, they are ultimately welcomed because they function so well to frame the main story.I suspect that this is one of those novels that must be read once, left fallow for a few years, and read again during a quiet time in adult life. I, for one, am eager to schedule a re-reading.
Review by alexrichman
16/06/2015
A surprisingly smutty bit of female-friendly literature - many a man reading this on the train has received a come-on, although I wasn't one of them. The cod-philosophy failed to move me, but the characters and their proclivities kept me interested enough. 
Review by glade1
16/06/2015
I expected this book to blow me away, but it didn't. It was interesting enough, and the author certainly takes on some immense themes: love, sex, and fidelity; Communism; war; art and its purpose; religion; and life's purpose. Tomas and Tereza meet and fall in love suddenly. Tomas has been a habitual womanizer and is conflicted and puzzled by this newfound emotional bond, though his love for Tereza does not prevent him from continuing to have sex with any other woman who crosses his path. Sabina, one of his mistresses, seems to be in love with him too but is not willing or able to commit, even if Tomas were free. Franz, who falls in love with Sabina after they start an affair, searches for great meaning in a mundane life.I think one of the best points the author makes is the fact of vastly different interpretations different individuals can have for the same events, places, or symbols. He even has a section in which he defines certain things from the points of view of Sabina and Franz, and we can see how one's upbringing and world view can slant the meaning of even the most commonplace thing. Kundera seems to believe that the soul and the body can operate nearly independently of one another, that it is entirely possible to be emotionally committed to one person while having no physical/sexual fidelity. I can see that is a possibility and an explanation for humankind's tendency to have "meaningless" affairs, but still had difficulty accepting the premise. I wanted to throttle all these promiscuous people!The entire story occurs with the backdrop of the Soviet occupation of Czechoslovakia, and the characters must deal with political unrest, questions of civic duty and loyalty, and fear of government reprisal in addition to their romantic dramas.The book is thought provoking and reasonably engrossing, but I found it bleak and a bit disjointed. I did not find myself attracted to or sympathetic to any of the characters. Not my best read of the year, but not a waste of time either :)