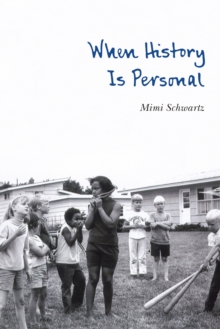 When History Is Personal
Paperback / softback
Description
When History Is Personal contains the stories of twenty-five moments in Mimi Schwartz's life, each heightened by its connection to historical, political, and social issues.
These essays look both inward and outward so that these individualized tales tell a larger story-of assimilation, the women's movement, racism, anti-Semitism, end-of-life issues, ethics in writing, digital and corporate challenges, and courtroom justice. A shrewd and discerning storyteller, Schwartz captures history from her vantage as a child of German-Jewish immigrants, a wife of over fifty years, a breast cancer survivor, a working mother, a traveler, a tennis player, a daughter, and a widow.
In adding her personal story to the larger narrative of history, culture, and politics, Schwartz invites readers to consider her personal take alongside "official" histories and offers readers fresh assessments of our collective past.
Information
Format: Paperback / softback
Pages: 270 pages, 24 photographs, 2 illustrations
Publisher: University of Nebraska Press
Publication Date: 01/03/2018
ISBN: 9781496206305
Other Formats
EPUB from £19.63
PDF from £19.63