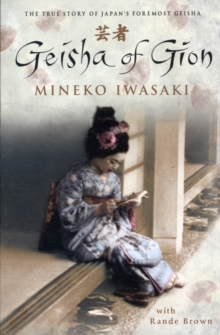 Geisha Of Gion: The True Story Of Japan's Foremost Geisha
Paperback
Description
'I can identify the exact moment when things began to change.
It was a cold winter afternoon. I had just turned three.' Emerging shyly from her hiding place, Mineko encounters Madam Oima, the formidable proprietress of a prolific geisha house in Gion.
Madam Oima is mesmerized by the child's black hair and black eyes: she has found her successor. And so Mineko is gently, but firmly, prised away from her parents to embark on an extraordinary career, of which she will become the best.
But even if you are exquisitely beautiful and the darling of the okiya, the life of a geisha is one of gruelling professional demands. And Mineko must first contend with her bitterly jealous sister who is determined to sabotage her success ...Captivating and poignant, GEISHA OF GION tells of Mineko's ascendancy to fame and her ultimate decision to leave the profession she found so constricting.
Information
Format: Paperback
Pages: 352 pages
Publisher: Simon & Schuster
Publication Date: 06/05/2003
Category: Autobiography: general
ISBN: 9780743430593
Free Home Delivery
on all orders
Pick up orders
from local bookshops
Reviews
Showing 1 - 5 of 5 reviews.
Review by lecari
16/06/2015
I found this book absolutely fascinating. It gave me an insight into a culture I would otherwise not know about it. It is very matter of fact, almost like a documentary or as though she is talking about someone else. I had no idea that geishas/geikos had to train for so long and so hard, that the clothing cost so much, or that it was such incredibly hard work. I got through it in only a day, I just couldn't put it down! I was amazed, and I'm really glad I read it - I've now lent it to several people, all of whom enjoyed it too.
Review by LizzySiddal
16/06/2015
Memoirs from the geisha who helped Arthur Golden on his way. Tame and, I suspect, heavily sanitized.
Review by FicusFan
16/06/2015
Interesting in more ways than the author intended. Pathology on a plate. I don't know if she is the world's worst liar, or she really believed what she wrote and didn't spot herself saying the exact opposite a few pages later. 1. Her mother was rich, <b>but</b> her parents sold their girl children to fund themselves.2. Her mother was sickly and weak at the start, <b> but</b> went on to have 11 children.3. Mineko worked night and day, never took time off, and wanted time for herself, <b> but</b> then she hated not working every minute and added extra events to her schedule each day.4. She worked non-stop for years without time off, <b> but </b> then had several vacations she took every year.5. She had no friends, and the other Geisha of her age hated her, and played nasty tricks on her <b> but </b> she would always say she did this and that with her friends (never identified). She was not allowed out of the quarter or to socialize with servants or untouchables - so who were these friends ?6. She didn't care about her customers, she only cared about dancing, <b> yet </b> she had customers who were special lifelong friends, and said it was unprofessional not to take care of all the customers.6. She earned money for her house with her engagements, <b> but </b> she never paid any attention to the amounts (only to the rank based on amount earned), She gave away the envelopes full of cash without looking in them, yet she frets that there was not enough money coming into the house.7. Keeping the house running was important to those who lived and worked there, and to all the craftspeople who depended on it, <b> but </b> she had no qualms about the craftspeople, and history when she shuts hers down (passed on from her adopted mother - the house owner). The whole book was like that. Her family and personal stories also didn't ring true. She supposedly was from an aristocratic family. Her father's family had no money, but her mother was rich. It strikes me the same as those who always say they have kings and queens as their ancestors. No one ever claims porters or ditch diggers as their forbearers, though they are by far more numerous than aristocrats and royalty. She claimed that she decided and conducted her life at 3 as though she were an adult. She made the decision to go to the Geisha house, not that her father sold her. Though her other sisters were sold, and very bitter their whole lives. She tells all these stories with exact details of who said what and what happened when she is very young (under 10).Some of her Geisha lore contradicts other sources. I have seen 2 other documentaries and they talk about Maiko as being apprentice Geisha in training, not just 'Dancing' Geisha as Mineko contends. She says Gion is different than other pleasure quarters in the country, perhaps that explains it, but it should be clearer.She presents so much information about sex and de-flowering virgins of various workers who aren't Geisha, often with the same word for something else that Geisha do, that it really isn't clear what is accurate and what isn't. Certainly before prostitution was outlawed (1957-59), the teahouses were also often associated with brothels and the Geisha was used as a come on to bring customers into the houses. They were all in the same area and competed against each other for customers. Girls were sold to houses and had no choice in what they did or didn't do.Many think that one time Geisha were like the high class courtesans that would be kept by one rich man after another. They would never be prolific with men, because that would drive their cachet and value down. How long ago that died out, is not clear.Still it was a strangely compelling read, despite the above problems and Mineko's selfishness and self-absorption.
Review by shanaqui
16/06/2015
Geisha of Gion is the story of one of the geishas that Arthur Golden based his book Memoirs of a Geisha on. I always enjoyed reading Memoirs of a Geisha, though I know it's not accurate and even perhaps exploitative -- it's certainly felt to be so by some people, in any case -- and I did want to read Mineko Iwasaki's words herself. A lot of people seem to have found that her tone was very grating: her self-assurance, her blithe assumption that the world would cater to her and she would never be wrong. I felt that too, but I wonder how much of it is due to the different cultural backgrounds most readers have to her.It's a fast read, and quite focused on the material aspects of living as a geisha: how much it cost, what the kimono were like, how they wore their hair... There are glimpses of an emotional life, but I could have done with knowing Mineko better, and knowing the price of the clothes she wore a little less. It's still an interesting glimpse into another view on the world of geishas -- though I hesitate to say the 'real' world, as this is just one view of it, from a woman of considerable pride and self-assurance.
Review by Sparrowlicious
27/08/2015
Mineko Iwasaki takes you on into her world with her autobiography. In this book you'll learn about some japanese costums, what the world of the geisha (or geiko, as in this book) is like and how it is organized. You'll see how something that is normal for us can be viewed as un-normal or unwanted in this culture (like, signing a fan is not a good thing to do, as the geisha needs it for her performance). Mineko Iwasaki might come off to some people as being on a high horse or arrogant or anything like that, but in truth she is a proud woman who doesn't hide the pride over her accomplishements. In this book she will tell you about the hard work she invested to become a legend among the geishas. This book also contains some photographs printed on special paper. <br/>If you like reading about women being in charge and about japanese culture and don't mind that it's a woman who's proud of herself telling the story, then this book is for you.