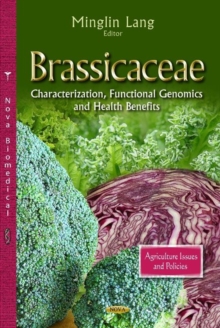 Brassicaceae : Characterization, Functional Genomics & Health Benefits
Paperback / softback
Description
This book is believed to be the the first collection of articles to summarize the most advanced information and studies of Brassicaceae, a special genus with vast species, which not only have tremendous human health beneficial compounds for dietary consumption, but also comprise the most metal hyperaccumulating species worldwide discovered to date with potential usage in phytoremediation of polluted soil, air and water.
The seven carefully selected chapters are authored by renowned experts from across the globe and cover the diverse beneficial roles of brassica-derived compounds and their molecular mechanisms of chlorophyll degradation.
It also includes the newly released Brasscas with great health benefits and high suitability for the fresh-cut and fifth range industries, the three-dimensional molecular structure prediction of the health-important BoSMT protein, and new discoveries on the molecular and physiology mechanisms of heavy metal hyper-accumation and tolerance species in Brassicaceae.
This book can be a useful reference book for scientists, teachers, students and others who are interested in the health benefits of brassica vegetables or their potential application in phytoremediation.
Information
Format: Paperback / softback
Pages: 200 pages
Publisher: Nova Science Publishers Inc
Publication Date: 15/10/2013
Category: Agriculture & farming
ISBN: 9781628088564