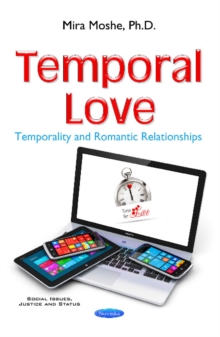 Temporal Love : Temporality & Romantic Relationships
Hardback
Description
This book deals with personal, social and cultural time perceptions and their impact on love and romantic relationships.
By focusing on time orientation and its representation in romantic relationships, this book reveals the latent links between temporality and love.
Given that the Western conception of time is based on the ability to distinguish and compare among time units and time intervals, fascinating layers of covert romantic ties are revealed: the representation of temporality in marriage and non-marital relationships as well as in long-term "no strings attached" ones; the blurred boundaries between expectations based on past relationships, present love and future intimacy; the real world of "here and now" vs. virtual intimacy and sexuality in the cyber age; the interjecting of "there-and-then" into "here-and-now"; the need to cope with "ghosts from the past"; the reverberation of dating time back and forth coupling intimacy rituals; nostalgic "there-and-then"; romantic secrets; deception and betrayal, and more.
Temporal Love: Temporality and Romantic Relationships draws a comparison between "natural," warm spontaneity free of external romantic intervention with "mechanical" cold, pre-scheduled and monitored love and intimacy.
Spontaneous temporal behavior is depicted as authentic and fatalistic behavior, whereas planned ahead of time is portrayed as rational and alienated.
Furthermore, there is an analysis of "time trading," i.e., investing in romance and maintaining long-term romantic relationships via investing "time coins" in hopes of future profit.
Among other things, taking a break from one's lover, breaking up or getting a divorce are represented as a kind of "financial" write-off, whereas a sense of permanency in a relationship might be viewed as a successful time investment.
Simultaneously, the "time trading" phenomenon generates a tendency to raise the stakes in the relationship and boost the willingness to "work" at it and make a commitment.
Finally, Temporal Love: Temporality and Romantic Relationships attempts to illuminate efforts to minimize "temporal damage" and maximize "temporal gains," while raising personal, social and cultural expectations for a "happily ever after" and "till death do us part" romantic experience.
Information
Format: Hardback
Pages: 100 pages
Publisher: Nova Science Publishers Inc
Publication Date: 01/12/2016
Category: Media studies
ISBN: 9781536100501
Free Home Delivery
on all orders
Pick up orders
from local bookshops