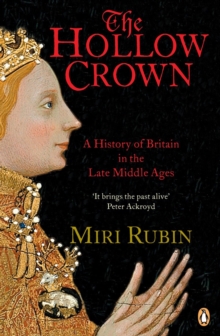 The Hollow Crown : A History of Britain in the Late Middle Ages (TPB) (GRP)
Paperback
Description
There is no more haunting, compelling period in Britain's history than the later middle ages.
The extraordinary kings - Edward III and Henry V, the great warriors, Richard II and Henry VI, tragic inadequates killed by their failure to use their power, and Richard III, the demon king.
The extraordinary events - the Black Death that destroyed a third of the population, the Peasants' Revolt, the Wars of the Roses, the Battle of Agincourt.
The extraordinary artistic achievements - the great churches, castles and tombs that still dominate the landscape, the birth of the English language in The Canterbury Tales.
For the first time in a generation, a historian has had the vision and confidence to write a spell-binding account of the era immortalised by Shakespeare's history plays.
The Hollow Crown brilliantly brings to life for the reader a world we have long lost - a strange, Catholic, rural country of monks, peasants, knights and merchants, almost perpetually at war - but continues to define so much of England's national myth.
Information
Format: Paperback
Pages: 400 pages
Publisher: Penguin Books Ltd
Publication Date: 28/01/2006
Category: British & Irish history
ISBN: 9780140148251
Free Home Delivery
on all orders
Pick up orders
from local bookshops