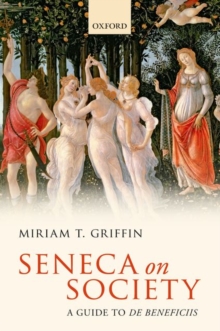 Seneca on Society : A Guide to De Beneficiis
Paperback / softback
Description
Seneca's De Beneficiis (On Benefits) is the only work surviving from antiquity that discusses the exchange of gifts and services.
Though the topic is of great importance, in practical moral philosophy, sociology, and in the historical study of how Roman society worked, the treatise has received comparatively little scholarly notice in modern times.
This is partly attributable to its length, Seneca's fullest treatment of a single subject, and itspuzzling structure.
In this volume Griffin aims to explain the philosophical, sociological, and historical significance of De Beneficiis, and make it more accessible to readers.
Divided into three sections, the volume firstly defines the phenomenon Seneca treats in De Beneficiis, pointing out his Stoic orientation and the relevance of his discussion to the Roman elite's code of conduct and to the phenomenon of the Princeps.
The second section explores the work itself: its date, addressee, structure, teaching strategy, its relation to other works of Seneca, and its later reputation up to the Renaissance.
The final section provides a detailed synopsis of eachbook, accompanied by notes in commentary form, as well as separate biographical notes on the persons mentioned in De Beneficiis.
Information
Format: Paperback / softback
Pages: 416 pages
Publisher: Oxford University Press
Publication Date: 14/09/2014
ISBN: 9780198723318
Free Home Delivery
on all orders
Pick up orders
from local bookshops