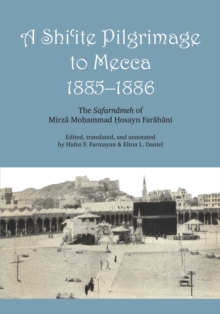 A Shi'ite Pilgrimage to Mecca, 1885-1886 : The Safarnameh of Mirza Mohammad Hosayn Farahani
Paperback / softback
Description
Western accounts of the Hajj, the ritual Muslim pilgrimage to Mecca, are rare, since access to Mecca is forbidden to non-Muslims.
In the Muslim world, however, pilgrimage literature is a well-established genre, dating back to the earliest centuries of the Islamic era.
A Shi'ite Pilgrimage to Mecca is taken from the original nineteenth-century Persian manuscript of the Safarnameh of Mirza Mohammad Hosayn Farahani, a well-educated, keenly observant, Iranian Shi'ite gentleman. This memoir holds a wealth of social and economic information about Czarist Russia, the Ottoman Empire, Egypt, Northern Iran, and Arabia.
The author is a meticulous observer, recording details of distances, currencies, accommodations, modes of travel, and so on.
He records the experiences encountered by pilgrims of his day: physical hardships, disease, generosity and compassion, banditry, hospitality, comradeship, and exaltation. And, without prejudice, he discusses the tensions between the Shi'ites and the Sunnites in the holy places-tensions that still exist and have erupted in bloody clashes during recent pilgrimages. A Shi'ite Pilgrimage to Mecca will appeal to a wide audience of general readers, Middle Eastern scholars, anthropologists, and historians.
Information
Format: Paperback / softback
Pages: 432 pages, 20 b&w illus., 4 figures, 8 maps
Publisher: University of Texas Press
Publication Date: 01/10/1990
Category: Islamic worship, rites & ceremonies
ISBN: 9780292776227
Free Home Delivery
on all orders
Pick up orders
from local bookshops