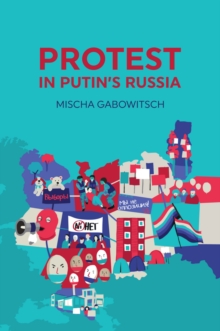 Protest in Putin's Russia
Paperback / softback
Description
The Russian protests, sparked by the 2011 Duma election, have been widely portrayed as a colourful but inconsequential middle-class rebellion, confined to Moscow and organized by an unpopular opposition.
In this sweeping new account of the protests, Mischa Gabowitsch challenges these journalistic cliches, showing that they stem from wishful thinking and media bias rather than from accurate empirical analysis.
Drawing on a rich body of material, he analyses the biggest wave of demonstrations since the end of the Soviet Union, situating them in the context of protest and social movements across Russia as a whole.
He also explores the legacy of the protests in the new era after Ukraine's much larger Maidan protests, the crises in Crimea and the Donbass, and Putin's ultra-conservative turn. As the first full-length study of the Russian protests, this book will be of great value to students and scholars of Russia and to anyone interested in contemporary social movements and political protest.