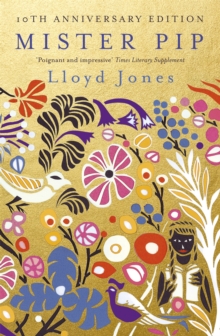 Description
'You cannot pretend to read a book. Your eyes will give you away. So will your breathing. A person entranced by a book simply forgets to breathe.
The house can catch alight and a reader deep in a book will not look up until the wallpaper is in flames.' Bougainville, 1991.
A small village on a lush tropical island in the South Pacific.
Eighty-six days have passed since Matilda's last day of school as, quietly, war is encroaching from the other end of the island.
When the villagers' safe, predictable lives come to a halt, Bougainville's children are surprised to find the island's only white man, a recluse, re-opening the school.
Pop Eye, aka Mr Watts, explains he will introduce the children to Mr Dickens.
Matilda and the others think a foreigner is coming to the island and prepare a list of much needed items.
They are shocked to discover their acquaintance with Mr Dickens will be through Mr Watts' inspiring reading of Great Expectations.
But on an island at war, the power of fiction has dangerous consequences.
Imagination and beliefs are challenged by guns. Mister Pip is an unforgettable tale of survival by story; a dazzling piece of writing that lives long in the mind after the last page is finished.
Information
Format: Paperback
Pages: 240 pages
Publisher: Hodder & Stoughton General Division
Publication Date: 10/01/2008
ISBN: 9780719569944
Free Home Delivery
on all orders
Pick up orders
from local bookshops
Reviews
Showing 1 - 5 of 5 reviews.
Review by LadyN
16/06/2015
Mister Pip is a wonderful book. I was gripped from the first page. Lloyd Jones writes with such wonderful description, and captures the narrative voice of a young girl, who's experiences lie no further than her small island, brilliantly. The only book at Matilda's school is Great Expectations. She finds a friend in Pip, and in following Dickens' story discovers a world beyond her own. Jones draws parallels between the lives of Matilda and Pip, but they are never intrusive - and perhaps not even always noticable.I found the use of metaphor and simile expertly executed, leaving the reader with a vivid appreciation of the Matilda's life.The story is at once heartfelt, beautiful and brutal. My one criticism is that I was not satisfied by the end. It seemed a little rushed and sudden compared with the careful development of the rest of the book. However, Mister Pip comes highly recommended.
Review by riverwillow
16/06/2015
In this novel Mr Watts tells Matilda, the main protagonist, that 'you cannot pretend to read a book. Your eyes will give you away. So will your breathing. A person entranced by a book simply forgets to breathe. The house can catch alight and a reader deep in a book will not look up until the wallpaper is in flames.' So true. But sadly not me when reading this book. Its a shame as I loved the idea of a group of children on a South Seas Island enchanted by Great Expectations. Essentially the narrative is just too detached from the events depicted in the book, terrible things happen, some as a direct result of reading Dickens, but as a reader I was completely undisturbed. But having said all of that, Lloyd Jones is an author I will look out for again as I like his ideas. The good news is that having made it to the 2007 Booker shortlist with this novel his other works (past and future) should be published in the UK.
Review by eleanor_eader
16/06/2015
This book engaged, bored, gripped, shocked and then lost me again, leaving me with an uneven impression of its overall worth… it might have helped if I felt even a modicum of the warmth that Matilda, the principal character, did for the characters of <i>Great Expectations.</i> No one who has ever lost themselves in a world of books to escape parts of their childhood will find it hard to identify with Matilda during the majority of this book, and the story of her life on the island was very well told; but during the last thirty or so pages, the entire ending seems to wander off, the book tries to do something else, and left this reader a little disappointed. An okay read, though I can understand why some might have enjoyed it far more than I.
Review by Bridgey
16/06/2015
Didn't really know what to make of this book...... I definately don't feel that it deserves all the awards and accolades that I have read in other reviews and the press. Like so many so called 'great' novels, not a lot really happens and I often found myself checking how many pages were left until the end.The plot is quite simple, an island in the pacific is in the grip of a civil war. The only white man in the near vicinity decides to help the children by becoming their teacher. He seemingly only has one book that he reads to them a chapter at a time. The book is Great Expectations. The book is written through the eyes of the main character, who through her reading of the book makes several comparrisons to her own life and leans upon the storyline for moral support and guidance. There are many sub plots throughout the 200+ pages, many of them to do with class and race, but I never felt that any of them were explored enough and often, when introduced just took away my attention from the already thin storyline.To be honest, if I had to sum up the book I would say that it was easy to read and contained some fairly interesting points. But I would mostly say that all the hype is just a case of the emporers clothes. I have given the book 3 stars instead of two as I really liked the way certain characters met their end - very unexpected.
Review by SueinCyprus
02/03/2016
'Mr Pip' is set in the island of Bougainville, part of Papua New Guinea, during the civil war of the 1980s. Mr Watts is the only white person in the district, an eccentric but likeable man married to Grace, one of the island's previous top students whom he met in Australia. He takes on the role of teacher to the children of the district. The story is related by Matilda, a fourteen-year-old, who in her turn is one of Mr Watts' top students. <br/><br/>Mr Watts uses 'Great Expectations' as an introduction to literature and language, and more; the whole book uses it as a theme, and Matilda becomes more and more involved with the person of Pip who stars in the story. <br/><br/>I certainly learned something about this island and its people, and some of the horrors of the war. But it was written in the kind of style that entirely failed to move me, even when it was shocking towards the end. <br/><br/>I suspect I don't really get 'literary fiction': this book has been highly acclaimed and was on the Man Booker prize shortlist. Possibly because it is undoubtedly original. However the characterisation and descriptions were rather flat, and the ending tried to tie up a lot of ends in a somewhat implausible way.<br/><br/>I was lent the book, and am glad I read it; but it's not really my kind of book.