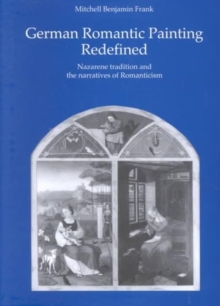 German Romantic Painting Redefined : Nazarene Tradition and the Narratives of Romanticism
Hardback
Description
The modernist aesthetic and, later, Nazi ideology split German Romantic painting into two opposed phases, an early progressive movement, represented by Caspar David Friedrich (1774-1840) and Philipp Otto Runge (1777-1810), and a later reactionary one - epitomized by Friedrich Overbeck (1789-1869) and Peter von Cornelius (1783-1867).
In this rich and engaging book, Mitchell Frank explores the continuities between these two phases to reconstruct the historical position that existed in the nineteenth century and to look once again at the Nazarenes - and Overbeck in particular - as a fully integrated part of the Romantic movement.
His innovative book is crucial to an understanding of German Romanticism and the legacy of this period in European art.
Other Formats
Paperback / softback from £34.75