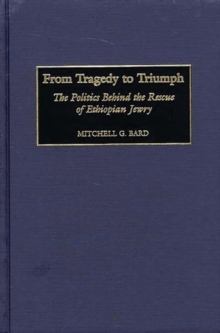 From Tragedy to Triumph : The Politics Behind the Rescue of Ethiopian Jewry
Hardback
Description
From 1984 to 1991, Israel conducted a series of dramatic rescues, bringing thousands of Ethiopian Jews to the state of Israel.
Codenamed Operation Sheba, this effort involved various covert means, including large-scale airlifts and exchanges for arms, to save these Jews from intolerable conditions in Ethiopia and the Sudan.
But as dramatic and uplifting as this effort was, there are still troubling questions about why it took so many years for Israel to act on behalf its African compatriots.
This is the complete story behind the Israeli rescue of the Jews of Ethiopia-how tragedy was turned into triumph. These rescue operations represented the culmination of complex political maneuvering in Israel and illustrated what Israeli resolve can accomplish when Jewish lives are endangered.
It was an inspiring effort-as William Safire wrote at the time, thousands of black people are being brought to a country not as slaves, but as citizens.
On the other hand, there is much to deplore how long it took for the leaders of Israel to recognize and take action to save this ancient African branch of the Jewish Diaspora, known as the Falasha.
The reasons are the result of the complex intersection of Israeli geostrategy, pressure from the American Jewish community, and Ethiopian domestic politics, as well as racism and debates about the Jewishness of the Falasha community.
Information
Format: Hardback
Pages: 232 pages
Publisher: ABC-CLIO
Publication Date: 30/06/2002
Category: Middle Eastern history
ISBN: 9780275970000
Free Home Delivery
on all orders
Pick up orders
from local bookshops
Also by Mitchell G. Bard