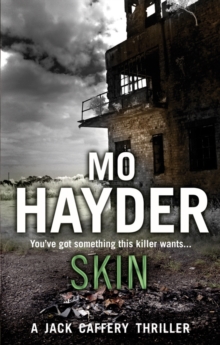 Description
When the decomposed body of a young woman is found near railway tracks just outside Bristol one morning, all indications are that she's committed suicide.
That's how the police want it too; all neatly squared and tidied away.
But DI Jack Caffery is not so sure. He is on the trail of someone predatory, someone who hides in the shadows and can slip into houses unseen. And for the first time in a very long time, he feels scared.
Police Diver Flea Marley is working alongside Caffery.
With the traumas of her past safely behind her, she's beginning to wonder whether their relationship could go beyond the professional.
But then she finds something that changes everything.
Not only is it far too close to home for comfort - it's so horrifying that she knows that nothing will ever be the same again. And this time, no one - not even Caffery - can help her ...
Information
Format: Paperback
Pages: 464 pages
Publisher: Transworld Publishers Ltd
Publication Date: 01/11/2009
Category: Crime & mystery
ISBN: 9780553820508
Free Home Delivery
on all orders
Pick up orders
from local bookshops
Reviews
Showing 1 - 2 of 2 reviews.
Review by adpaton
16/06/2015
Although this book is complete in itself, it follows a little too closely on the heels of Ritual, Hayder's story about Muti murder, to stand alone satisfactorily, and is her weakest work so far.Having said that, it is still a good read: Caffrey has been assigned the disappearance of the girlfriend of a soccer star, but is convinced his last case was not properly resolved and that the Tokoloshe is still out there.He comes across suicides that he is convinced are actually murders, although his boss, anxious to solve the mystery of the vanishing girlfriend, is not interested. Unwater recovery diver Flea Marley has problems of her own as she discovers she has inadvertently provided an alibi for her brother Thom at a time when he was driving drunk - killing a pedestrian he turns out to be the missing girlfriend.Thom has stored the corpse in the boot of Flea's car, causing all sorts of problems, especially when he denies he used the car at all that night and it is up to her to dispose of the decomposing body.Jack still pays his visits to the tramp known as the Walking Man, who still always knows when to expect him and dolls out advise with the sagacity of Solomon. He has got over his obsession with his brother and is now starting to fret about Flea...Well written as always but, just possibly, a little bit tired? Skin lost the sparkle, tension and cohesion of previous books and I was not altogether surprised to find it relegated to the discount book store.
Review by ElizaJane
16/06/2015
Reason for Reading: Next in the series and Mo Hayder is my favourite author in the world! (at the moment)Summary: A suicide is found and everything points to case closed, though the ex-husband does show concern that things don't seem right. When another suicide with the same MO shows up Jack Caffery asks to be put on the case as he has found some connections between the two. At the same time celebrity rich girl, Misty Kitson, has simply vanished and police diver Flea Marley has been called in to search a few lakes and a quarry. Flea and Jack do not work together in this novel, they are off on their own this time. Jack's case takes him to a very strange human being and a sick prolific serial killer while Flea is hit out of the blue by a family problem that she must deal with and it is something that will change her life forever.Comments: First off the mystery story was quite good, it did lack Hayder's trademark gruesomeness and weirdness which I've come to expect but still a strange enough case to be worthy of Hayder's talent. Flea's story, however, is the one that gets the reader's blood thumping. Not exactly a mystery as we learn the facts as quickly as Flea does but more pure thriller. What Hayder has done in this book is examine her main characters personalities and moral boundaries. From earlier books we know what Jack is capable of, but he has shown determinedly to prove himself the better man he knows he can be. Flea we've only seen from one side, this novel tests her boundaries and between them both Mo Hayder has created two very unique main character detectives for a police procedural series. Are they likable? "Can" they be likable? What does it say about the reader if he does like them? Personally, I did not like Jack the first time I met him in "Birdman" but I grew to like him quite quickly. At this time I do still like both Flea and Jack but with caveats and I must see what the next book brings before I make any final decisions. But whether I like them or not as persons, I love them as the unique, distinct detective team in Hayder's twisted thrillers with plots that no one else could write.