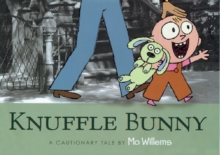 Description
The first in the much-loved Knuffle Bunny series, join Trixie, her dad and her favourite stuffed bunny in this award-winning and brilliantly observed cautionary tale.A Caldecott Honor book from the creator of Don't Let the Pigeon Drive the Bus and That Is Not a Good Idea!, this is the brilliantly true-to-life tale of what happens when Daddy's in charge and things go terribly, hilariously wrong.
Merging expressive cartoon-esque illustrations with beautiful black-and-white photographs of New York, the visually striking story follows Daddy, Trixie and Knuffle Bunny on their trip to the neighbourhood Laundromat.
But their adventure takes a dramatic turn when Trixie realizes somebunny's been left behind... And no matter how hard she tries to tell dad, he just doesn't understand!
Information
Format: Paperback
Pages: 40 pages
Publisher: Walker Books Ltd
Publication Date: 07/07/2005
Category: Picture books
ISBN: 9781844280599
Free Home Delivery
on all orders
Pick up orders
from local bookshops
Reviews
Showing 1 - 5 of 9 reviews.
Previous | Next
Review by bplma
16/06/2015
Trixie the toddler is still learning to speak when she brings her favorite security stuffed animal, knuffle bunny, on a trip to the laundromat with her dad. They have lots of fun until Trixie realizes on the way home that they forgot Knuffle Bunny. Because she cannot speak yet, Trixie is for forced to have a public meltdown (we've all been there!) until Dad finally gets the picture...(thanks to Mom, of course). A wonderfully fun and clever story that reminds us of the importance of family, security and communication. Wonderfully illustrated with drawings on photographs, Knuffle Bunny is fun to hear and to read.
Review by MrsBond
16/06/2015
Little girl loses her favorite stuffed toy at the laundromat, tries to tell dad but he doesn't understand her toddler-speak. Beautifully written and illustrated, great read-aloud. Facial expressions are fantastic.
Review by conuly
16/06/2015
Ah, the first of the Knuffle Bunny books!Now, I should mention from the start that knuffle is a Dutch word meaning "Snuggle" and, as such, the k is pronounced. I don't suppose it matters except that it comes up in the next book, so best to get it right now, right?This is a plot familiar to anybody who has ever been near a small child: The Lost Toy. Trixie, the baby (and ain't she cute?) has a bunny. Which she loses. Not that her dad realizes. He's cheerfully oblivious to the fact that her tantrum has a *cause*. (I love the 'words' Trixie uses to convey her emotions, btw. "Snurp?")Luckily, Mom is a bit smarter, and everything gets sorted out in the end. And Knuffle Bunny is the first word Trixie ever says. (Aw.)It's a very simple story, and it doesn't have much in the way of vocabulary, so it'd probably work well for a very small toddler as well as an older child. My nieces love this, but then, we're pretty big Mo Willems fans around here all the time!
Review by ShellyCBuchanan
16/06/2015
An adventure and the laundromat with Dad, leaves little Trixie without her best friend, little stuffed Knuffle Bunny. Willems' storytelling, through both the hilarious illustration and his simple language make this a story something to relate to for everyone who has ever loved or belonged to a precious plaything. Funny and touching, this book shows the mishaps and commitment of family life.
Review by sunnyburke
16/06/2015
This is a great book about what happens when Dad is in charge and things go terrible wrong! Everyone can relate to this story where a little girl loses her most prized possession at the local laundromat. The big probelm here is that the olittle girl is too young to speak and can only express her what has happened in cries and tears. This book makes you think long and hard abotu all of those sobbing children out there and what they are really trying to tellus but don;t have the vocabulary to do so yet! Mo Willems does a great job combining beautiful black and white photographs of Brooklyn, New York with his hysterical cartoon drawings of the main characters.