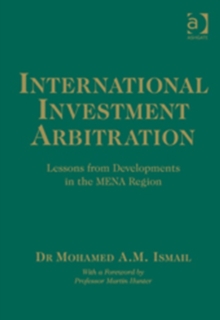 International Investment Arbitration : Lessons from Developments in the MENA Region
Hardback
Description
Arbitration is the most common mechanism for disputes' settlement in developing countries. Following the move to free market economies, arbitration will play an increasingly fundamental role in order to protect foreign investors in the Middle East and North African Region (MENA).
This book examines the pulse and dynamics of international investment arbitration and the new era of mediation in state contracts in the region.
The author explores the harmonization of international arbitration and the sensitive issue of le Contrat Administratif in Middle East civil law countries.
The volume also discusses the pivotal role of international organizations such as UNCTAD and ICSID in codifying fair and prompt mechanisms for dispute settlement.
Using Latin American countries as a prime example of how international legislative instruments serve international investment law principles and comparing Latin American experiences where appropriate, the book demonstrates how lessons can be learned in respect of alternative dispute resolution, international commercial arbitration and investor-states arbitration.
It provides suggestions and recommendations for the future and includes useful appendices detailing recent worldwide trends, regional and international instruments in the arbitration world.
Information
Format: Hardback
Pages: 240 pages
Publisher: Taylor & Francis Ltd
Publication Date: 26/07/2013
Category: Comparative law
ISBN: 9781409463634