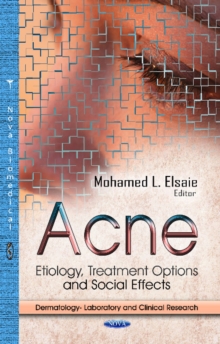 Acne : Etiology, Treatment Options & Social Effects
Hardback
Description
Although many dermatological diseases are not life threatening, they pose a unique challenge to the human psyche.
Cutaneous disease carries a distinctive psychosocial burden in that patients who suffer from these diseases are often unable to hide their condition from public scrutiny.
Specifically, acne vulgaris is a ubiquitous disease with a known potential to cause significant psychological repercussions.
Acne is the leading cause for visits to a dermatologist and affects more than 80 percent of adolescents.
Acne can affect up to 50.9 percent of women and 42.5 percent of men throughout their 20s and can continue to occur throughout adulthood.
Between 30 to 50 percent of adolescents experience psychological difficulties associated with acne, including body image concerns, embarrassment, social impairment, anxiety, frustration, anger, depression, and poor self-esteem.
Additionally, suicidal ideation and suicide attempts related to the negative psychosocial impacts of acne have also been documented.
Not only does acne result in emotional distress, the anxiety evoked by having acne can aggravate the skin condition itself, thereby creating a vicious cycle.
Acne is the most common problem that presents to dermatologists.
Although acne does not cause direct physical impairment, it can produce a significant psychosocial burden.
Acne commonly involves the face. Facial appearance represents an important aspect of one's perception of body image.
Therefore, it is not surprising that a susceptible individual with facial acne may develop significant psychosocial disability.
As part of the emotional impact, increased levels of anxiety, anger, depression, and frustration are observed in patients with acne.
Acne's consequences can prove very traumatic for adolescent patients.
This suggests that the impact of acne can be more serious for the patients than most clinicians think it would be and it is more important to focus on the subjective perception in managing acne patients, irrespective of the objective severity.
Our book highlights and tackles several aspects of acne and magnifies the importance of screening for psychosocial problems in those who present for management of acne.
It is important for all health service workers to be cautious about psychological morbidity in young people, and especially dermatologists should be aware of the importance of basic psychosomatic treatment in conjunction with medical treatment in the management of acne.
Information
Format: Hardback
Pages: 130 pages
Publisher: Nova Science Publishers Inc
Publication Date: 19/06/2013
Category: Dermatology
ISBN: 9781626183582
Free Home Delivery
on all orders
Pick up orders
from local bookshops