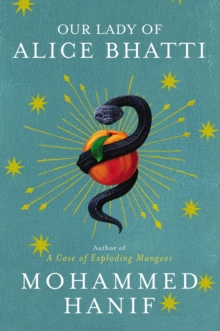 Our Lady of Alice Bhatti
Hardback
Description
The patients of the Sacred Heart Hospital for All Ailments are looking for a miracle, and Alice Bhatti is looking for a job.
Alice is a candidate for the position of junior nurse, grade 4.
It is only a few weeks since her release from Borstal.
She has returned to her childhood home in the French Colony, where her father, recently retired from his position as chief janitor, continues as part-time healer, and full-time headache for the local church.
It seems she has inherited some of his gift.With guidance from the working nurse's manual, and some tricks she picked up in prison, Alice brings succour to the thousands of patients littering the hospital's corridors and concrete courtyard.
In the process she attracts the attention of a lovesick patient, Teddy Bunt, apprentice to the nefarious 'Gentleman Squad' of the Karachi police.
They fall in love; Teddy with sudden violence, Alice with cautious optimism.Their love is unexpected, but the consequences are not.
Alice soon finds that her new life is built on foundations as unstable as those of her home. A Catholic snubbed by other Catholics, who are in turn hated by everyone around them, she is also put at risk by her husband, who does two things that no member of the Gentlemen Squad has ever done - fall in love with a working girl, and allow a potentially dangerous suspect to get away.
Can Teddy and Alice ever live in peace? Can two people make a life together without destroying the very thing that united them?
It seems unlikely, but then Alice Bhatti is no ordinary nurse...Filled with wit, colour and pathos, Our Lady of Alice Bhatti is a glorious story of second chances, thwarted ambitions and love in unlikely places, set in the febrile streets of downtown Karachi.
It is the remarkable new novel from the author of A Case of Exploding Mangoes.
Information
Format: Hardback
Pages: 240 pages
Publisher: Vintage
Publication Date: 06/10/2011
ISBN: 9780224082051
Other Formats
Paperback from £6.65
EPUB from £4.99
Free Home Delivery
on all orders
Pick up orders
from local bookshops
Reviews
Showing 1 - 3 of 3 reviews.
Review by iftyzaidi
16/06/2015
This is Hanif's second book, following the excellent [A Case of Exploding Mangoes]. The story follows a Christian nurse named Alice Bhatti working at a public hospital in Karachi and a police tout (unofficial muscle for when the police want to do things on the down-low) named 'Teddy' Butt, who fall in love. Complications ensue, ultimately leading to a tragic ending.The language is rich, at times too rich, with sentences bursting at the seam with overripe imagery and lurid prose. The tone is earthy, vulgar and intense as we are bombarded with images, colours, smells, sounds – a barrage of impressions of the seedy underbelly of the city of Karachi. It deals with the themes of intolerance, misogyny, brutality, and the unlikely origins of hope – the grandest of themes write large across a gaudy canvas. The biggest drawback in my mind is that the narrative stutters and skitters from image to image without really giving the characters a chance to gel. Hanif is better at writing set-pieces – the novel feels like a series of set-pieces or vignettes strung together rather than an organic whole. As a result the characters don't properly come alive. Its like we are seeing snapshots of them at particular moments rather than their development over the course of the doomed love affair. As a result I feel its easier to engage with the setting than with the characters. And the setting is so sordid for the most part that I can see a lot of people getting turned off with the whole thing.
Review by mariamreza
16/06/2015
There are some wonderful passages in this book, capturing the chaos and senseless violence in a city like Karachi, as well as the despair of people trapped in a cycle of poverty and oppression. But the plot seems to lack direction and is often uncomfortably dark, making this a difficult book to read continuously.
Review by VivienneR
16/06/2015
Satire, humour, and pathos combine to create this quirky story involving junior nurse Alice Bhatti. It is outrageous, crude, ribald, tragic, wretched, yet reveals a poignant acceptance of an oppressive life. However, the characters lacked colour and failed to hold my interest.