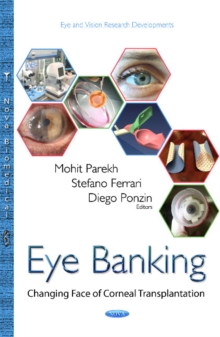 Eye Banking : Changing Face of Corneal Transplantation
Hardback
Description
Until a few years ago, eye banks were only considered as centres for collecting and processing units of human donor eyes.
However, eye banks in recent years have changed the process of current corneal transplantation.
Although the very first corneal transplantation was conceptualised in the late 18th century, it has taken a century to develop methods and understand the role of human corneas in general.
This book gives an insight of worldwide associations and their standard regulations in terms of corneal donations, processes and transplantations.
The associations mainly include: Eye Bank Association of America, European Eye Bank Association and Eye Bank Association of Australia and New Zealand.
This book also refers to some of the early stages of eye banking and current methods of preservation, including cold and organ culture storage.
The current eye banking scenario is changing dramatically in terms of tissue processing.
Once, tissues were only collected, stored and shipped for transplantation to the surgeons.
Now eye banks have advanced in developing techniques in collaboration with surgeons to introduce more reliable methods of transplantation.
This includes standardisation of methods such as DSAEK, UT-DSAEK, pre-loaded grafts and DMEK.
Furthermore, this compilation describes different techniques of lamellar keratoplasty, such as anterior and posterior lamellar keratoplasties.
Retrieving, storing, processing and transplantation of such lenticules are also discussed in this book.
Posterior lamellar graft preparation for selective surgeries like DSAEK and Ultra-Thin DSAEK has been included with relevant clinical approaches.
DMEK, which is currently taking corneal transplantation to a different level, has been reported with various graft preparation techniques.
The role of eye banks in general for such preparation method is also examined.
Additionally, the importance of microbiology in day to day care in the field of corneal transplantation and eye banks exists as a topic within these pages.
Eye banks are playing a major role and changing the face of corneal transplantation in terms of new research; whether it be graft preparation for surgeries, preservation, surgical tools, ready-to-use tissues or studying cornea in details using available research tissues, these methods are advancing the field.
Eye banks play a major role in tissue selection and correct processing methods.
Surgeons are provided with a validated tissue so it makes easier for them to follow the transplantation.
Therefore, this book highlights the new concepts in the eye banking field with regards to the standards, regulations, retrieval, preservation and transplantation methods.
All of these continue to help aid in the research and development of surgical processes and devices.
Information
Format: Hardback
Pages: 218 pages
Publisher: Nova Science Publishers Inc
Publication Date: 01/06/2015
Category: Ophthalmology
ISBN: 9781634826495
Free Home Delivery
on all orders
Pick up orders
from local bookshops