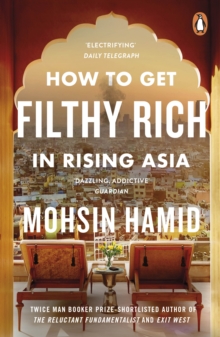 How to Get Filthy Rich in Rising Asia
Paperback
Description
Mohsin Hamid's How to Get Filthy Rich in Rising Asia is a bold new novel for the modern world.This book is a self-help book.
Its objective, as it says on the cover, is to show you how to get filthy rich in rising Asia. And to do that it has to find you, huddled, shivering, on the packed earth under your mother's cot one cold, dewy morning.
Your anguish is the anguish of a boy whose chocolate has been thrown away, whose remote controls are out of batteries, whose scooter is busted, whose new sneakers have been stolen.
This is all the more remarkable since you've never in your life seen any of these things . . .'Even more intriguing, compelling and moving than The Reluctant Fundamentalist.
A marvellous book' Philip Pullman 'This brilliantly structured, deeply felt book is written with the confidence and bravura of a man born to write.
Hamid is at the peak of his considerable powers here, and delivers a tightly paced, preternaturally wise book about a thoroughly likable, thoroughly troubled striver in the messiest, most chaotic ring of global economy.
Completely unforgettable' Dave Eggers 'Mohsin Hamid is one of the best writers in the world, period.
Only a master could have written this propulsive tale of a striver living on the knife's edge, a noir Horatio Alger story for our frenetic, violent times' Ben FountainMohsin Hamid is the author of The Reluctant Fundamentalist and Moth Smoke.
His fiction has been adapted for the cinema, translated into over 30 languages, received numerous awards, and been shortlisted for the Man Booker Prize. He has contributed essays and short stories to publications such as the Guardian, The New York Times, Financial Times, Granta, and the New Yorker. Born and mostly raised in Lahore, he spent part of his childhood in California, studied at Princeton University and Harvard Law School, and has since lived between Lahore, London and New York.
Information
Format: Paperback
Pages: 240 pages
Publisher: Penguin Books Ltd
Publication Date: 06/02/2014
ISBN: 9780241144671
Other Formats
EPUB from £4.99
eAudiobook MP3 from £7.20
Free Home Delivery
on all orders
Pick up orders
from local bookshops
Reviews
Showing 1 - 1 of 1 reviews.
Review by MeditationesMartini
16/06/2015
It's a bit hard to review this without feeling ungenerous to it because the authorial persona that emerges (NB, it can do so every bit as fully and vividly from a novel whose protagonist is an unnamed "you" as opposed to an unnamed "I") is so polished, self-aware, and cynical. Hamid knows very well that he is selling voyeurism, the appearance but not the reality of satire, and non-specifically "Asian" and "mongrel" (the neoliberal riposte to Bhabha's "hybrid") quick reads immersed in a vaguely oily realism-with-capitalist-characteristics: literature genetically engineered for <i>Economist</i> readers. It's about one abject boy predator but with a good heart and of course a dream, and you hope for something brittle and incisive beneath all the surface unction, the performance of a willingness to perform social commentary at some nonspecified future date, but it leaves you feeling ungenerous as well, like, reducing it to something ridiculous like a well-timed attempt to piggyback off <i>Slumdog Millionaire</i>, which, like, "rising Asia" is <i>perhaps a little more than that</i> but it doesn't matter because the representative choices Hamid makes (in re open toilets, for example, in re the young gunman kissing his mother and sister goodbye) seem to betray a sanguinity on his part with paying for the emotional charge by laying himself open to the charge of exploitation (though, he always seems to imply, self-exploitation, the rich kid from Pakistan well used to playing racial Other in creative writing programs for rich kids from the US and in, like, Granta). Are you recognizing the complex but utterly tiresome act I am referring to?And so it is a bit surprising when you come to recognize that this is actually a love story, and a very sweet one, wrapped up as all love stories are with life arc and death in a way that, let me leave aside my own cynic's pose for a minute, is simply unglamorous and therefore seems sincere. I really liked reading about the hungry boy and the pretty girl, and if all throughout Hamid does not seem quite confident to lay aside the glibly marketable reflexivity ("I within you within me, though not in a creepy way"), I still kind of feel like the quieter story of love half enacted, the ephemeralness of gold, physical decline, etc., emerges from the other like a cool shaded room in a twenty-first-century megalopolis full of traffic and billboards and guys on the make, and makes this (quick!) read worth a moyen of one's time, in an airport, say.