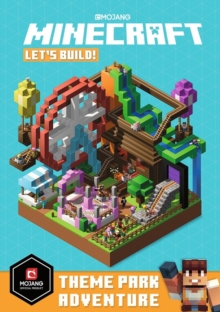 Minecraft Let's Build! Theme Park Adventure
Paperback / softback
Description
Theme Park Adventure is the first title in the brand new Let's Build! construction series for younger Minecrafters aged 6 and up. Have you ever wanted to build an entire theme park in Minecraft to enjoy with your friends?
Well, now you can! Let construction expert Sparks from the official Minecraft magazine show you how to make everything from a classic carousel and a water flume to a haunted mansion ride and even an alternate dimensions rollercoaster.
With her expert tips, creating a theme park will be easy!Collect all of the official Minecraft books to become the best Minecrafter you can be:Minecraft Guide to Exploration: 9781405285971Minecraft Guide to Creative: 9781405285988Minecraft Guide to Redstone: 9781405286008Minecraft Guide to the Nether and the End: 9781405285995Minecraft Guide to Enchantments and Potions: 9781405288958Minecraft Guide to Farming: 9781405290104Minecraft Blockopedia: 9781405273534Minecraft: Exploded Builds: Medieval Fortress: 9781405284172Minecraft The Survivors' Book of Secrets: 9781405283335Minecraft Survival Tin: 9781405288200Minecraft Mobestiary: 9781405286022Minecraft: The Ultimate Construction Collection: 9781405291927Minecraft is a multi-platform block-based gaming sensation available on Xbox, PlayStation, PC and mobile devices.
Whether you're in Creative, Survival or Hardcore Mode, the official Mojang-approved Minecraft books contain all the advice you need to survive and thrive.