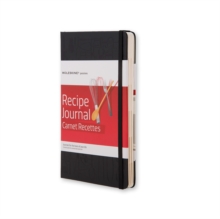 Moleskine Passion Recipe Journal
Notebook / blank book
Description
Part of the new Passions range from Moleskine. Centreing on the 6 big passions of the world (recipes, wine, music, books, wellness and film), Moleskine now offer this range of 6 notebooks specifically tailored to each passion.
Recipes includes 6 themed sections to be filled 6 blank sections to be personalised, food calendars, food facts, measures and conversions, blank pages for additional notes and 202 adhesive labels for further personalisation.
Also featured is acid-free paper and a double expandable inner pocket.
Information
Format: Notebook / blank book
Pages: 240 pages
Publisher: Moleskine srl
Publication Date: 10/02/2010
Category: Stationery items
ISBN: 9788862933155
Free Home Delivery
on all orders
Pick up orders
from local bookshops
Reviews
Showing 1 - 1 of 1 reviews.
Review by nzwaneveld
16/06/2015
The recipe journal is a great addition to my Moleskine addiction ;-)No seriously... With this journal you get 17 pages for Food Facts (food calendars, food facts, measures and conversions), 100 pages with a special layout for recipes, 6 tabbed sections containing 95 pages that have been divided into 5 sections, and 15 totally blank pages.I decided to use this journal for family recipes, and not to jot down recipes for special occasions. What is the difference? Well, our day-to-day family meals normally do not start with an appetizer, followed by a first course. Normally we dig into the main course after the food is blessed. In this setting, why would I want to dedicate 68 out of 100 themed pages for dishes that I will hardly use on a day-to-day basis? I don't, so I hacked this journal to meet my requirements as a family recipe journal. The first step is to dedicate all 100 themed pages to one type of dish... the Main Course. If I want to do something for a special occasion (e.g. include appetizers, side dishes, special deserts and cocktails), then I will use other resources. I made new labels to cover the text on the themed tabs. If there are really appetizers, side dishes, etc. that I really want to include in my journal, then I jot them down in the pages found in the 6 tabbed sections (starting at the last page, and then work towards the front). This way I keep enough space for main dishes, and keep the option open to expand my main dish recipes into the other tabbed sections. So what makes this journal so practical for recipes, besides the special layout of the first 100 pages?1) The pages are thin, so the journal can contain a lot of information. At the same time the acid free pages are such that I can even use a fountain pen (if I so please) without it seriously bleeding through to the other side of the page (making that side difficult to read).2) The journal has a hard back, and the cover is made of oil-proof paper. So if I accidentally touch the journal with dirty / greasy fingers, I can easily wipe it clean.3) I love the elastic that keeps the book closed, preserving the contents an helping to prevent pages curling up...4) It's a Moleskine... of course you could do the same with another bound notebook, but if you are addicted to Moleskine... it just isn't the same.Cooking is not only a practical necessity, but it can also be fun. If you like to write down your favorite recipes and you have a passion for Moleskine... then what other choices do you have? :-) Have fun!
Also in the Moleskine Passions series | View all