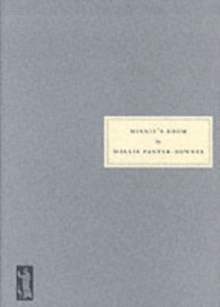 Minnie's Room : The Peacetime Stories of Mollie Panter-Downes
Paperback
Information
Format: Paperback
Pages: 144 pages
Publisher: Persephone Books Ltd
Publication Date: 22/06/2002
ISBN: 9781903155240
Free Home Delivery
on all orders
Pick up orders
from local bookshops
Reviews
Showing 1 - 2 of 2 reviews.
Review by Kasthu
16/06/2015
In Minnie's Room, a collection of 11 stories published between 1947 and 1965, Mollie Panter-Downes explores some of the same themes she explores in her novel, One Fine Day. In the 1940s and beyond, people were struggling to adapt to their new circumstances, because things were, indeed, dire (for example, as the introduction to this book says, "bread had been newly rationed in 1946"). It was rough going for everyone, especially the middle classes, who were hit especially hard by the imposition of increased income tax to deal with postwar shortages. So the stories in this collection reflect on a small scale the larger issues that were going on in England and the world at that time.Although there is no immediate theme to this collection, her stories are all about people dealing with the aftermath of WWII and the effect it had on ordinary people. So although these characters don't seem to have a lot in common in the surface, they all deal with the same kinds of larger issues. The stories deal with a variety of characters in varying situations. In the titular "Minnie's Room, "a middle-aged live-in cook threatens to leave and find a place of her own; in "Beside the Still Waters," a middle-aged woman returns to her ill mother's bedside, only to come face to face with her siblings, with whom she has nothing in common; in "What Are the Wild Waves Saying?" a girl on a seaside holiday gets her first, outside glimpse of romance.All the stories deal with change in some way and the ways in which various people cope with it. As the author got father away from the war, you start to see a shift in the stories away from the war, which makes this collection less of a cohesive unit than the stories collected in Good Evening, Mrs. Craven. As such, I didn't enjoy this collection quite as much, but I thought the author had some interesting things to say about the passage of time. However, although I'm not a huge fan of the short story, I've always enjoyed the collections that Persephone reprints.
Review by souloftherose
16/06/2015
Minnie's Room is the second collection of short stories written by Mollie Panter-Downes published by Persephone books. This collection contains a selection of her short stories taken from those which were originally published in the New Yorker between 1947 and 1965. Most of the stories touch on the after effects of WWII in some way, particularly on how the middle-classes were affected: from the family who wonder how they'll cope now their maid wants to leave them to live in a room of her own (the eponymous 'Minnie's Room') to the older couple escaping the postwar taxes with a move to South Africa.My favourite story was 'What are the wild waves saying?' from 1952 about a young girl on a seaside holiday, just at the edge when she is starting to daydream of love and romance. She is thrilled to learn a newly married couple will be honeymooning at the small hotel where she is staying but is dreadfully disappointed when she finds them to be a normal, not particularly attractive pair of individuals. But then she catches a glimpse of them together on the beach and gets a glimpse of the transforming effect love can have on two very ordinary people.<i>"John was out of sight when I came upong the Eastons. They had taken shelter behind two large rocks that formed a convenient windbreak, and they did not see me as I came scrambling silently, in my rubber-soled shoes, across the stones and passed quite near them. Mr Easton was lying with his head in Mrs Easton's lap, and appeared to be asleep. Mrs Easton's head was tied up in a loudly patterned scarf, and her body was huddled in a lumpish, patient attitude as she looked down at her husband, who was not, after all, sleeping, for as I hesittated, peeping between the rocks, he moved his head and said something. I could not see the expression on his face as he looked up at her, but I could see hers clearly, and even to a stupid adolescent it was a revelation. Her face shone and was dazzling and perfectly unrecognisable with love - love that had about as much resemblance to the emotion I had dwelt upon so delightfully of late as the huge, glistening sea beyond the white-caps had to the small turgid puddle of salt water beside my foot. I could not move away. I stood fascinated, staring at this humdrum little couple who, by looking into each other's unattractive faces, had told me extraordinary things about themselesv, and about the old Rigers and sad, doggy Mr Stemp and the dignity of all human afection."</i>At just over 120 pages this is a short collection and for me it was over all too quickly. This and <i>Good Evening, Mrs Craven</i> are the only collections of stories by MPD that Persephone have published although Virago have also published one of her novels, <i>One Fine Day</i>, which I'm hoping to read this year.
Also by Mollie Panter-Downes