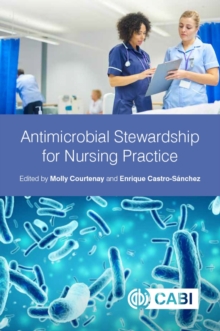 Antimicrobial Stewardship for Nursing Practice
Paperback / softback
Description
Drug-resistant infections are one of the greatest threats to human health, and with resistance on the rise, appropriate antimicrobial stewardship (AMS) is more important than ever.
This book, written by nurses for nurses, provides a clear and concise approach to good practice in this vital area.
Exploring all aspects of AMS, this new book is underpinned by a competency framework endorsed by scientific and professional societies, including the National Institute for Health and Care Excellence (NICE).
It explains the practices that ensure optimal use of antibiotics for the best clinical outcome, with both minimal toxicity to the patient and minimal impact on subsequent antimicrobial resistance.
This book, the first applied directly to antimicrobial stewardship for nurses, supports standards of proficiency for registered nurses, and can therefore be used by regulators and professional bodies to inform standards of proficiency and guidance.
The book covers infection prevention and control, antimicrobial resistance, diagnosis of infection and appropriate antimicrobial use, patient engagement, collaboration between professions and how to implement AMS in nursing practice.
Including learning tools such as objectives, practical case studies and questions throughout, as well as lecture slides, this book is an essential read for undergraduate nursing students and specialist nurses worldwide.
This book is authored by a multi-national group of experts with representation from professional associations, universities and national public health agencies, such as: - Royal College of Nursing, UK - Cardiff University, UK - University of Sao Paulo, Brazil - Public Health England, UK - National Centre for Antimicrobial Stewardship, Australia
Information
Format: Paperback / softback
Pages: 152 pages
Publisher: CABI Publishing
Publication Date: 04/02/2020
Category: Medical microbiology & virology
ISBN: 9781789242690