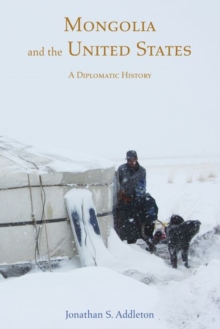 Mongolia and the United States : A Diplomatic History
Hardback
Description
Former U.S. ambassador Jonathan Addleton provides a pioneering firsthand look at the remarkable growth of civil society and diplomatic ties between two countries separated by vast distances yet sharing a growing list of strategic interests and values.
While maintaining positive ties with Russia and China, its powerful neighbors and still-dominant trading partners, Mongolia has sought "third neighbors" to help provide balance, including Canada, Japan, Korea, European nations, and the United States.
For its part, the United States has supported Mongolia as an emerging democracy while fostering development and commercial relations.
People-to-people ties have significantly expanded in recent years, as has a security partnership that supports Mongolia's emergence as a provider of military peacekeepers under the U.N. flag in Sierra Leone, Chad, Kosovo, Darfur, South Sudan, and elsewhere. While focusing on diplomatic relations over the last quarter century, Addleton also briefly describes American encounters with Mongolia over the past 150 years.
More recently, Mongolia has emerged as a magnet for foreign investment, making it one of the world's fastest growing economies.
Information
Format: Hardback
Pages: 200 pages
Publisher: Hong Kong University Press
Publication Date: 10/05/2013
Category: Diplomacy
ISBN: 9789888139941