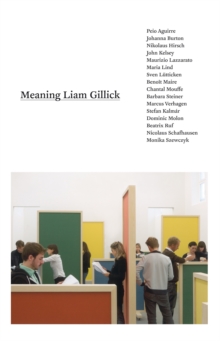 Meaning Liam Gillick
Paperback / softback
Description
The first critical reader on one of today's most pivotal (and perplexing) contemporary artists. Liam Gillick emerged as part of the generation of "Young British Artists" who energized the British art scene in the 1980s and 1990s.
He is now one of the most influential (and perplexing) artists in all of contemporary art.
Gillick's discursive mode of art practice-often associated with "relational aesthetics"-complicates object production, embraces the exhibition as medium, and explores the social role and function of art.
His body of work includes variations on "discussion platforms" (architectural structures that question or facilitate social interaction), text sculptures, and published texts that reflect on the increasing gap between utopian idealism and the real world.
Artist, writer, curator, and provocateur, Gillick explores how an artistic practice can be conducted and represented, while at the same time questioning curatorial practice and the conventions of applied design.
This reader coincides with a year-long, multi-venue, mid-career retrospective that serves both as a continuous investigation into Gillick's practice and an in-depth study of his work to date.
The book offers a range of critical perspectives on Gillick's work.
Among them: political scientist Chantall Mouffe develops her notion of radical democracy and antagonism; sociologist Maurizio Lazzarato (whose theorization of immaterial labor influenced Gillick) comments on the current economic crisis; philosopher and artist Benoit Maire links Gillick to continental philosophy; and Johanna Burton questions Gillick's practice in the context of feminist critique.ContributorsPeio Aguirre, Julieta Aranda, Johanna Burton, Nikolaus Hirsch, John Kelsey, Maurizio Lazzarato, Maria Lind, Sven Lutticken, Benoit Maire, Chantall Mouffe, Barbara Steiner, Marcus Verhagen
Information
Format: Paperback / softback
Pages: 218 pages, 40 b&w illus.; 80 Illustrations, unspecified
Publisher: MIT Press Ltd
Publication Date: 29/05/2009
Category: Theory of art
ISBN: 9780262513517
Also in the The MIT Press series | View all