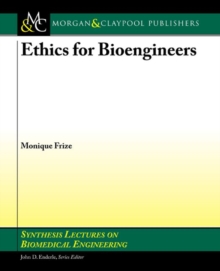 Ethics for Bioengineers
Paperback / softback
Description
Increasingly, biomedical scientists and engineers are involved in projects, design, or research and development that involve humans or animals.
The book presents general concepts on professionalism and the regulation of the profession of engineering, including a discussion on what is ethics and moral conduct, ethical theories and the codes of ethics that are most relevant for engineers.
An ethical decision-making process is suggested. Other issues such as conflicts of interest, plagiarism, intellectual property, confidentiality, privacy, fraud, and corruption are presented.
General guidelines, the process for obtaining ethics approval from Ethics Review Boards, and the importance of obtaining informed consent from volunteers recruited for studies are presented.
A discussion on research with animals is included. Ethical dilemmas focus on reproductive technologies, stem cells, cloning, genetic testing, and designer babies.
The book includes a discussion on ethics and the technologies of body enhancement and of regeneration.
The importance of assessing the impact of technology on people, society, and on our planet is stressed.
Particular attention is given to nanotechnologies, the environment, and issues that pertain to developing countries.
Ideas on gender, culture, and ethics focus on how research and access to medical services have, at times, been discriminatory towards women.
The cultural aspects focus on organ transplantation in Japan, and a case study of an Aboriginal child in Canada; both examples show the impact that culture can have on how care is provided or accepted.
The final section of the book discusses data collection and analysis and offers a guideline for honest reporting of results, avoiding fraud, or unethical approaches.
The appendix presents a few case studies where fraud and/or unethical research have occurred.
Information
Format: Paperback / softback
Pages: 81 pages
Publisher: Morgan & Claypool Publishers
Publication Date: 15/04/2010
Category: Biomedical engineering
ISBN: 9781608453696
Free Home Delivery
on all orders
Pick up orders
from local bookshops
Also in the Synthesis Lectures on Biomedical Engineering series | View all