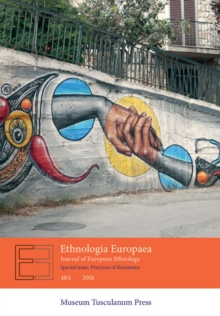 Ethnologia Europaea vol. 48:1
Paperback / softback
Description
In many Mediterranean countries we observe newcomers to the political arena: new forms of social networking, growing opposition, and protest articulated by local communities or locally active social movements.
In this special issue we present fresh research on localized practices of resistance by protest groups, solidarity initiatives, and cultural projects, which have arisen in the wake of the 2008 crisis.
Based on ethnological fieldwork, the volume offers insights into the media-based protest against the commodification of the historic Marseille district Panier (Philip Cartelli); urban gardening in Ljubljana as a practice opposing the growing neoliberal market economy (Saa Poljak Istenic); and the movement Genuino Clandestino, a solidarity network of small-scale farmers in Italy (Alexander Koensler).
Three case studies deal with social movement in Greece: a solidarity network in Volos, where citizens developed an alternative exchange and trading system (Andreas Streinzer); grassroots mobilizations as resistant practices in the inner urban neighbourhood of Exarchia in Athens (Monia Cappuccini); and finally rural solidarity networks on the Peloponnese peninsula (James Verinis).
A comparative discussion of Mediterranean protest movements (Jutta Lauth Bacas and Marion Naser-Lather) identifies underlying common features in these clearly different, yet relatable practices of protest: among others, the major role of face-to-face interaction and mutual trust.
Information
Format: Paperback / softback
Pages: 116 pages
Publisher: Museum Tusculanum Press
Publication Date: 01/07/2018
ISBN: 9788763546263