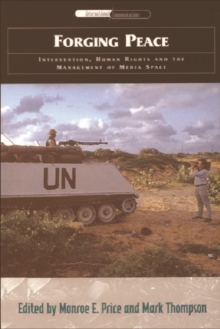 Forging Peace : Intervention, Human Rights and the Management of Media Space
Paperback / softback
Description
During the past decade a number of bloody conflicts have focused international attention on the strategic role of the media in promoting war and perpetuating chaos.
The challenges posed by systematic manipulation of the media have been particularly acute in Bosnia, Rwanda, Kosovo, East Timor - wherever the international community intervened to prevent atrocities, or stop them, or help rebuild society in their aftermath.
Written against this backdrop, Forging Peace brings together case studies and legal analysis of the steps that the United Nations, NATO and other organisations, both governmental and non-governmental, have taken to build pluralist and independent media in the wake of massive human rights violations.
Forging Peace maps an important aspect of contemporary peacemaking.
It examines current thinking on the legality of unilateral humanitarian intervention, then analyses in graphic detail the pioneering use of information intervention techniques in conflict zones, ranging from full-scale bombardment and confiscation of transmitters to the establishment of new laws and regulatory regimes. As the social and economic role of the media expands and information technology spreads, driving governments in the world's trouble spots to seek more sophisticated ways of controlling public opinion, Forging Peace looks set to influence policy and debate for years to come.
The contributors: Eric Blinderman, Patrick Carmichael, Helen Darbishire, Stephanie Farrior, Alison Des Forges, Peter Krug, Dan De Luce, Julie Mertus, Jamie Metzl, Philip Taylor, David Wimhurst.
Information
Format:Paperback / softback
Pages:416 pages
Publisher:Edinburgh University Press
Publication Date:11/06/2002
Category:
ISBN:9780748615018
Also in the International Communications series | View all