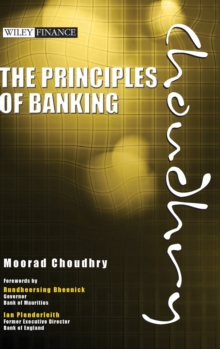 The Principles of Banking
Hardback
Description
The ultimate guide for bank management: how to survive and thrive throughout the business cycle An essential guide for bankers and students of finance everywhere, The Principles of Banking reiterates that the primary requirement of banking sound capital and liquidity risk management had been forgotten in the years prior to the financial crash.
Serving as a policy guide for market practitioners and regulators at all levels, the book explains the keys to success that bankers need to follow during good times in order to be prepared for the bad, providing in-depth guidance and technical analysis of exactly what constitutes good banking practice.
Accessible to professionals and students alike, The Principles of Banking covers issues of practical importance to bank practitioners, including asset-liability management, liquidity risk, internal transfer pricing, capital management, stress testing, and more.
With an emphasis on viewing business cycles as patterns of stable and stressful market behavior, and rich with worked examples illustrating the key principles of bank asset-liability management, the book is an essential policy guide for today and tomorrow. It also offers readers access to an accompanying website holding policy templates and teaching aids. * Illustrates how unsound banking practices that were evident in previous bank crashes were repeated during the creation of the 2007-2008 financial market crisis * Provides a template that can be used to create a sound liquidity and asset-liability management framework at any bank * An essential resource for the international banking community as it seeks to re-establish its credibility, as well as for students of finance * Explains the original principles of banking, including sound lending policy and liquidity management, and why these need to be restated in order to avoid another bank crisis at the time of the next economic recession * Covers topics of particular importance to students and academia, many of which are marginally if ever addressed in current text books on finance * Offers readers access to a companion website featuring invaluable learning and teaching aids Written by a banking practitioner with extensive professional and teaching experience in the field, The Principles of Banking explains exactly how to get back to basics in risk management in the banking community, essential if we are to maintain a sustainable banking industry. engaging and interesting and, more importantly, easily understood, allowing a clear picture to emerge of how the principle or concept under discussion is to be applied in the real world. - Graeme Wolvaardt, Head of Market & Liquidity Risk Control, Europe Arab Bank Plc
Information
Format: Hardback
Pages: 912 pages
Publisher: John Wiley and Sons Ltd
Publication Date: 24/04/2012
Category: Banking
ISBN: 9780470825211
Other Formats
PDF from £54.00
EPUB from £54.00
Hardback from £63.39
Paperback from £51.99
Free Home Delivery
on all orders
Pick up orders
from local bookshops
Also in the Wiley Finance series | View all