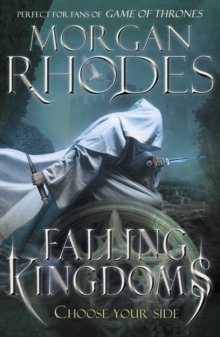 Falling Kingdoms
Paperback
Description
Fantasy, romance and magic meld with unforgettable characters in this sensational series debut.
Falling Kingdoms is perfect for fans of George RR Martin's Game of Thrones, JRR Tolkein'sThe Hobbit, and Trudy Canavan's Black Magician trilogy.In a land where magic has been forgotten and peace has reigned for centuries, unrest is simmering .
Three kingdoms battle for power . . . A princess must journey into enemy territory in search of a magic long-thought extinct.A rebel becomes the leader of a bloody revolution.A Sorceress discovers the truth about the supernatural legacy she is destined to wield.It's the eve of war.
Each must choose a side.KINGDOMS WILL FALL.'From an opening dripping with blood, magic, and betrayal through complex interweaving plots detailing treachery, deceit, and forbidden love, this novel is the first in a projected series that will immediately engage readers and keep them intrigued' Booklist'Once you are drawn into Falling Kingdoms' vividly imagined landscape, you won't ever want to leave it!' Mizz 'Falling Kingdoms is a great choice for lovers of Game of Thrones.' Hypable.com'Ms. Rhodes takes the reader on a journey in a mythical land and you come out cheering for a victor and gasping for air.
If you like 'Game of Thrones', you'll love Falling Kingdoms.' JustJared.comAbout the author:Morgan Rhodes lives in Ontario, Canada.
As a child, she always wanted to be a princess - the kind that knows how to wield a sharp sword to help save both kingdoms and princes from fire-breathing dragons and dark wizards.
Instead, she became a writer, which is just as good and much less dangerous.
Along with writing, Morgan enjoys photography, travel, and reality TV, and is an extremely picky yet voracious reader of all kinds of books.
Under another pen name, she's a national bestselling author of many paranormal novels.
Falling Kingdoms is her first high fantasy. Follow her on Twitter @morganrhodesya.www.facebook.com/FallingKingdoms
Information
Format: Paperback
Pages: 432 pages
Publisher: Penguin Books Ltd
Publication Date: 01/01/2013
Category: Thrillers (Children's/YA)
ISBN: 9780141346151
Other Formats
Paperback from £7.09
EPUB from £4.99
Free Home Delivery
on all orders
Pick up orders
from local bookshops
Reviews
Showing 1 - 3 of 3 reviews.
Review by wyvernfriend
16/06/2015
Honestly it did sound interesting, three kingdoms that were once one, several teens from these kingdoms, three of which are royal, a promise of magic return and adventure. But it just didn't grab me. One of the big evil characters died in minutes, the evil king all but twirls his moustache and the characters didn't engage me or make me root for them. I'm kinda curious about what happens next but I actually don't care all that much, I might read the sequel but I'm more invested in others.There were moments that did stand out and did make me want to see more by this author, maybe later in their career.
Review by Elysianfield
16/06/2015
3,5 stars<br/><br/><br/>The story is about 3 kingdoms that were once united: Auranos, Limeros, and Paelsia. There's been peace between the countries for centuries but then a wine-maker's son was killed by Auranian noble from the princess's entourage. The victim's brother vows revenge and sets in motion a war that's been long brewing.<br/><br/>Cleo is Auranian princess, spoiled, stubborn and childish. She was probably my least favourite character. She does grow as a person towards the end but unfortunately it comes after so much has happened. She's also carrying this secret and let me tell you, that was the lamest secret. Ever. <br/><br/>I liked Magnus before he turned this bloodthirsty idiot and turns into his father who he despises. And he's in love with his (adoptive) sister.<br/><br/>Jonas is a pheasant who harbors hatred for all things royal and when his brother is killed in princess Cleo's presence he basically wants to start a war. And he seemed to blame Cleo more for the murder than Aron who actually killed him, just because she was royal.<br/><br/>I haven't read much YA fantasy and this wasn't in no way bad but I thought it lacked that something. Maybe things pick up in the next book.
Review by emcnicho
16/06/2015
The characters in this book as so very bland the author feels the need to tell us what they ought to be like.<br/><br/>Now that I've finished, I can confirm. Ab-so-lute drivel.