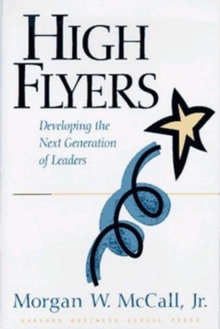 High Flyers : Developing the Next Generation of Leaders
Hardback
Description
How do you develop the people who will one day lead your company?
High Flyers challenges conventional wisdom about how to groom executives for the top positions in the firm by presenting a strategic framework for identifying and developing future executives that senior managers can use to identify and develop future executives.
McCall demonstrates that the best executives aren't necessarily managers who possess a previously identified, generic list of traits or who have risen to the top through survival of the fittest.
Rather, the real leaders of the future are those who have the ability to learn from their experiences and remain open to continuous learning.
If these people get the right experiences on the job, they will have the ultimate opportunity to learn new executive skills.
Full of vivid real-life examples, High Flyers is for everyone in the organization who has responsibility for developing people - as well as for aspiring managers who want to learn what it takes to become truly effective leaders.
For companies, High Flyers demonstrates the power of executive development as a competitive advantage and the way to ensure the best leadership for the future.
Free Home Delivery
on all orders
Pick up orders
from local bookshops