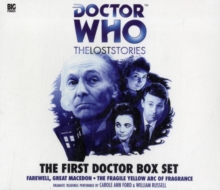 The First Doctor Box Set
CD-Audio
Description
Farewell, Great Macedon. The TARDIS materialises in the Hanging Gardens of Babylon, one of the Seven Ancient Wonders of the World, in the year 323 BC.
The Doctor, Ian, Barbara and Susan meet Alexander the Great - but their excitement is tempered by the realization that these are the final days of Alexander's life.
As the travellers become embroiled in the tragic events, the inevitability of history unfolds around them.
But can they - and should they - change it?The Fragile Yellow Arc of Fragrance.
Fragrance is a paradise world - a utopia that the travellers are loathe to leave after a relaxing stay.
But the way of life is different here. And so is the way of love - as Barbara discovers when the Fragile Yellow Arc is broken...
Information
Format: CD-Audio
Publisher: Big Finish Productions Ltd
Publication Date: 30/11/2010
Category: Science fiction
ISBN: 9781844354528
Free Home Delivery
on all orders
Pick up orders
from local bookshops
Reviews
Showing 1 - 1 of 1 reviews.
Review by saroz
16/06/2015
How great was this? Very enjoyable indeed. It helps, of course, that I will listen to damn near anything William Russell narrates at this point. If Big Finish released a 2-disc CD of him reading the cinema listings, I'd probably have to buy it. And I really wouldn't have minded if he'd done the narration for this one all on his own; that said, Carole Ann Ford made a great counterpoint and I thought the way the story was handed off from one to the other worked really well. I was completely used to it by the end of the first episode.The story itself was very good, strong historical stuff in the vein we know and love from the Hartnell era. I took particular joy in some of the early dialogue that hinted at just how different "Doctor Who" could have been, what with Susan worrying about heaven and the Doctor talking about "the Allmighty." The Doctor's firewalk was fun, and while it was completely preposterous, I couldn't help but smile at Ian's "scientific" wrestling match. My main complaint - and I'm not sure it's even a complaint, more a reservation - was how much this story sometimes felt like the politics-based plot of "Marco Polo" combined with "The Aztecs" and its interest in keeping history along the correct lines. I found myself wondering if David Whitaker turned it down partly based on that alone. Occasionally it felt so familiar I knew exactly what kind of plot twist was coming next, just based on having seen other Hartnell historicals! And I'm not saying Big Finish should have changed the story to be more "unique" or anything, it's just what kept it from being truly top-drawer stuff for me. It didn't have quite enough of its own identity."Fragile Yellow Arc" wasn't quite as successful for me because, frankly, it's Barbara's story, and it felt weird having it recounted by "Ian" and "Susan." I realize that was unavoidable, but the narration conceit didn't seem to work as well on this one. Still, I looked at the whole thing as sort of a freebie for buying "Farewell, Great Macedon," and I did enjoy it a good deal. Huge props to Farhi for simply trying something new and strange and interesting in a single-episode pitch.
Also in the Doctor Who: The Lost Stories series | View all