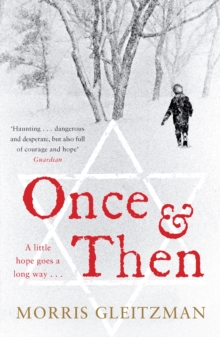 Description
That's the good thing with stories. There's always a chance they can come true.Felix is lucky.
Unlike the other children in the orphanage, he's certain his parents will come back for him one day. And whatever the Nazis do and however many books they burn, Felix's imagination provides him and his companions with an endless supply of stories - stories that protect them when they're on the run, shield them from the violent madness all around, give them hope when all seems lost, and one day may even save Felix's life.Once & Then is a spellbinding story of hope and imagination in the most terrible circumstances.However my story turns out, I'll never forget how lucky I am.
Information
Format: Paperback
Pages: 256 pages
Publisher: Penguin Books Ltd
Publication Date: 21/03/2006
ISBN: 9780141042794
Free Home Delivery
on all orders
Pick up orders
from local bookshops
Reviews
Showing 1 - 3 of 3 reviews.
Review by SMG-JMorrison
16/06/2015
it was a good book but it was really dramatical..... but i still liked it.
Review by jessicariddoch
16/06/2015
main character Boysuggest late primary early secondaryThis is a book based on the second world war. The experiences of a child who failed to understand what was happening as noone was explaining things to him. In once I loce the use of the carrot as a device for his hopeThe mian character is a jewish boy who has been hidden in a catholic orphanage by his parents so as to escape the Natzies. But he has to run away to help his parents, end up right in the middle of everything. I love the story telling of the main character and the way that it links together his misunderstanding of what is happening arround him and how this slowly leaves him the more that he ses and canot deny.Read this book
Review by jayne_charles
16/06/2015
You know that feeling when you get a book home from the bookshop and start reading it, and you realise it probably is a children's book that was shelved in the adult section because the prose is really very childlike. And you read it even though the main character seems to remain in denial about what is going on around him for way too long, and you tell yourself OK, it's because he's a child and a child can't cope with evil on that grand a scale. And you read the whole thing practically in one sitting and it really does turn out to be a good book, and when you finish it you are sitting on a bench on the quay and you are quite glad it's started to rain because the old couple sat at the other end of the bench hopefully won't notice there are tears running down your face. Then you stay sitting down for ages watching the boats and thinking about what you've read and feeling glad for the times we are living in.Well that's how I'm feeling now.