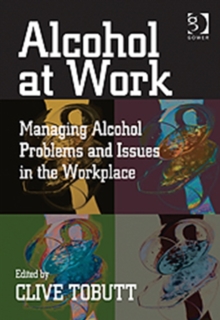 Alcohol at Work : Managing Alcohol Problems and Issues in the Workplace
Hardback
Description
In the European Union many individuals will partake in drinking a little wine with their lunch or dinner to aid their enjoyment of the meal or as an appetizer for food.
Alcohol is also a drug of dependence. Some individuals will drink too much and some of them will become addicted. Access to alcohol, binge drinking, and younger drinkers can lead to unsafe workplaces, absenteeism, fraud and criminal behaviour.
Alcohol at Work is a definitive guide to the problem, exploring its nature and scale and providing a complete range of ideas and techniques to help create a policy in the workplace and develop appropriate and effective measures for monitoring and tackling alcohol abuse.
The key collective message is solve the problem - take the alcohol, not the person, out of the workplace. In the UK alone, research puts the cost of alcohol abuse in the workplace at AGBP2 billion a year.
This is a must-have reference for human resource, occupational health and risk managers, as well as those involved in tackling criminal behaviour such as fraud and violence at work resulting from alcohol abuse and addiction.
Free Home Delivery
on all orders
Pick up orders
from local bookshops