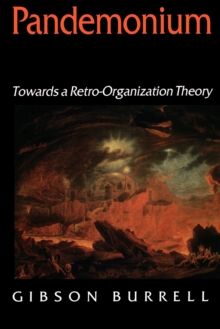 Pandemonium : Towards a Retro-Organization Theory
Paperback / softback
Description
`A truly bizarre and sometimes filthy historical canter through abatoirs, satyriasis and Noel Edmonds' House Party, among other things, towards a theory of organisation' - The Times'The author pursues a vigorous polemic on organisational development' - Financial TimesIn this irreverent and inventive book, Gibson Burrell seeks to circumvent the established frameworks which have defined our understanding of organization and organizations.
He brings us tales from under the edge which enmire us in the nether side of modernist organization. By looking backwards deep into the history of Western societies, and sideways across the broad domain of social and cultural theory, Pandemonium disconcerts and invigorates the domain of the study of organizations. Through his experimental device of the two-directional text, Burrell offers multi-layered meanings and a metaphor for the rejection of linearity.
This is not an organizational behaviour textbook but an exploration that will take organization theory into a new era.
Information
Format: Paperback / softback
Pages: 254 pages
Publisher: SAGE Publications Ltd
Publication Date: 13/02/1997
Category: Organizational theory & behaviour
ISBN: 9780803977778
Also by Mr Gibson Burrell