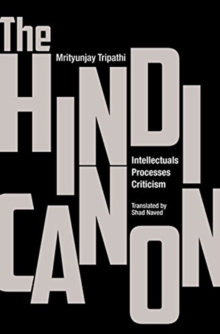 The Hindi Canon - Intellectuals, Processes, Criticism
Hardback
Description
This book was first published in Hindi under the title Hindi Alochana mein Canon-Nirman ki Prakriya in 2015.
It was acclaimed as one of the first critical studies of the processes of canonization (pratimanikaran) in Hindi.
Indeed, the word 'canon' was used by the author to ask a new set of questions about the development of languages of criticism in Hindi, moving beyond the available vocabulary of man (worth), mulya (value), pratiman (epitome), and manak (evaluation).
In the process, the theological roots of canon formation were shown to be foundational in the making of the Hindi critical lexicon and canon. This book presents a systematic but critical account of the beginnings, development and history of the process of canonization in Hindi via such exemplary figures as George Grierson, Garcin de Tassy, Ramchandra Shukla, Hazari Prasad Dwivedi, Ram Vilas Sharma, Muktibodh, Namwar Singh, Nirmal Verma, and Vijaydev Narayan Sahi.
It proposes an intellectual history of Hindi criticism in the twentieth century, which today faces the challenges of a decanonization move in the form of feminist and Dalit thought.
Free Home Delivery
on all orders
Pick up orders
from local bookshops