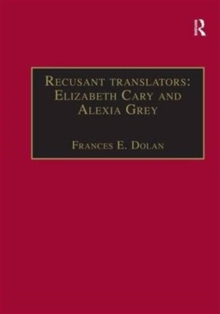 Recusant translators: Elizabeth Cary and Alexia Grey : Printed Writings 1500-1640: Series I, Part Two, Volume 13
Hardback
Description
At a time when England was an officially Protestant country to translate Catholic works, thereby helping to propagate the faith, was a brave act and to actually identify oneself in print, as did Cary, as 'a Catholique, and a woman' was a risky assertion of political opposition. One of Cary's daughters asserts that Cary's translation of Cardinal Du Perron's Reply was largely motivated by a desire to convert scholars at Oxford and Cambridge.
With her translation in 1630 she sought to reactivate a polemical war which had peaked in 1616 and she intervened in political debate that was far from resolved, and that would issue in revolution, regicide and restoration in the years to come.
Although few copies escaped the burning ordered by Archbishop Abbot, at least ten survive.
The copy reproduced here is from Cambridge University. Alexia Grey (baptised Margaret) joined the monastery of the Immaculate Conception in Ghent in 1629 at the age of twenty two or three.
Hers was not the first translation of Benedict's Rule but by that time a 'reformation' and more than a century had rendered earlier translations unavailable.
Her work was an important contribution to sustaining conventual life for Englishwomen abroad.
Grey's translation is sometimes bound, as in this volume, with Statutes compyled for the better observation of the holy rule of S.
Benedict. The fine copy reproduced here is from the Downside Abbey in Bath.
Information
Format: Hardback
Pages: 784 pages
Publisher: Taylor & Francis Ltd
Publication Date: 21/07/2000
Category: Literary essays
ISBN: 9781840142266
Free Home Delivery
on all orders
Pick up orders
from local bookshops