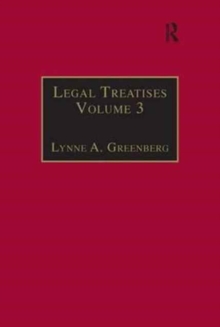 Legal Treatises : Essential Works for the Study of Early Modern Women: Series III, Part One, Volume 3
Hardback
Description
The texts reproduced in facsimile in the three volumes of 'Legal Treatises' reconstruct the legal status of the early modern Englishwoman. To facilitate a reading of the treatises by broadly defining many of the laws discussed in great detail in the treatises, a general introduction to the laws of the period provides concise overviews of the structure of the English legal system; the legal education of practitioners of the law; the kinds of legal literature produced in the period; and the legal position of early modern Englishwomen.
A bibliography of important secondary scholarship devoted to the early modern Englishwoman's legal position assists the reader in obtaining more specialized knowledge.
In addition to the general introduction, a separate introduction to each of the reproduced works is provided, including information about each work's publication and authorship, intended audience, content and reception. In order to provide this framework for the years 1600-1750, this first volume of 'Legal Treatises' reproduces The Lawes Resolutions of Womens Rights (1632), the first known treatise devoted to the legal rights of women. 'The Womans Lawyer,' as the treatise's running headline and spine title read, was published anonymously in 1632; the title page fails to identify the original author of the work, and its authorship remains in question today.
At over 400 pages, the text represents a massive effort of consolidation, organizing the disparate and hitherto uncompiled aspects of the common law applicable to women into a logical framework.
It is unusual among early modern legal treatises in its stated goal of providing a 'popular kind of instruction' to its readers.
Information
Format: Hardback
Pages: 616 pages
Publisher: Taylor & Francis Ltd
Publication Date: 24/10/2005
Category: Anthologies (non-poetry)
ISBN: 9780754631132
Also in the The Early Modern Englishwoman: A Facsimile Library of Essential Works for the Study of Early Modern series | View all