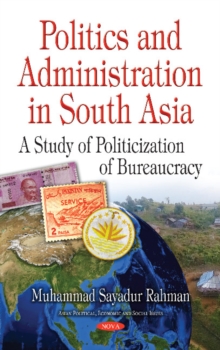 Politics & Administration in South Asia : A Study of Politicization of Bureaucracy
Paperback / softback
Description
Bureaucracy is an integral part of modern democratic polity.
The modern democratic states are built upon the bureaucratic structure that undergrid these states, although there is a vast difference in bureaucratic traditions and cultures in between developed and developing democratic and democratizing societies.
As a developing region, South Asia has a longstanding tradition of bureaucratic organization.
The traditional bureaucracies were patrimonial in nature, where loyalty was valued more than professionalism.
However, the replacement of the concept of modern rational-legal bureaucracy in traditional societies like South Asia was initiated by the colonial master rulers or imperial powers following the conceptualization of modern bureaucracy by Max Weber.
Their (colonial rulers) intention was to establish a steel frame of administration in South Asia so that their hegemony remains intact even after the breakdown of colonial hegemony. Studies of democratic politics in India, the military dominated authoritarian state of Pakistan and the newly democratic state of Bangladesh have addressed this heavily in the literature of politics and administration, but far less explained the process of governance, particularly explaining the politicization of the bureaucracy in South Asia.
The role of bureaucracy in governance is not a new phenomenon in the discourse of politics and administration.
Irrespective of the regions and the systems of government, professional mandarins or bureaucracies (rational-legal, neutral and merit-based) are exceedingly involved in the process of governance and development, and immensely contribute to the development by serving as advisers, inventors, and decision-makers along with the elected politicians as the agent of change.
Thus, a study has been carried out on the politics-bureaucracy relationship and the role of bureaucracy in governance.
Yet, academics are interested to understand the nature of the relationship between politics and bureaucracy, their transition, and their mutual interaction in politics from different perspectives and academic point of view with intellectual inquiry.
This monograph is with the South Asian bureaucracy, focusing on the light of politicization.
Information
Format: Paperback / softback
Pages: 170 pages
Publisher: Nova Science Publishers Inc
Publication Date: 29/09/2017
Category: Political ideologies
ISBN: 9781536122978
Free Home Delivery
on all orders
Pick up orders
from local bookshops