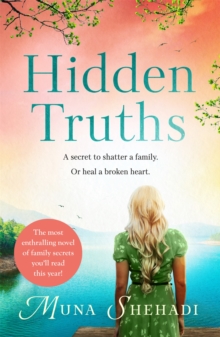 Hidden Truths : A compelling novel of shocking family secrets you won't be able to put down!
Paperback / softback
Description
'The story telling in this book is right up there with Nora Roberts, who is an expert at drawing you into a story' 5* reader review'To say I loved reading this book would be an understatement!
I simply couldn't put it down' 5* reader reviewWhat happens when you discover that your glamorous movie star mother could never have given birth to you?Fans of Lucinda Riley, Santa Montefiore and Rachel Hore will be gripped by Muna Shehadi's Hidden Truths. 'A really gripping book which is lovely and fast paced.
I found it really hard to put down!' 5* reader review'Such a beautiful story with the family drama that I love...
It was my first book by the author but it definitely won't be the last' 5* reader review'Brilliant novel' 5* reader review'Fascinating...with an exciting group of characters' 5* reader reviewEve Moore is in a rut. Stuck in a steady, predictable relationship, and a job where she's no longer challenged, Eve and her sisters are reeling from a recent discovery, years after their famous movie star mother's death, that Jillian Croft could never have given birth to any of her daughters... Embracing new horizons doesn't come naturally, but when the chance falls into Eve's lap to strike out on her own and test her architectural design skills, she sees it as the perfect opportunity for change - one that turns out to be further-reaching than she could have imagined. Planning to lose herself in work on Washington Island, Eve keeps stumbling into unexpected and complicated secrets.
But she also begins to forge close emotional connections to her new acquaintances, and discovers that by bringing another family back together, she might be able to heal her own long-concealed heartache, and step into the future she chooses - on her own terms. Don't miss Muna's other enthralling novels, Private Lies and Honest Secrets:'A wonderful read with evocative descriptions and enough family secrets to create a gripping journey of discovery' Woman
Information
Format:Paperback / softback
Pages:400 pages
Publisher:Headline Publishing Group
Publication Date:28/05/2020
Category:
ISBN:9781472258731