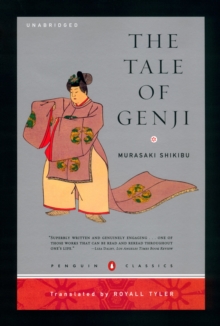 The Tale of Genji
Paperback
Description
The first complete new translation for 25 years of the acknowledged masterpiece of Japanese literature.
Lady Murasaki's great 11th century novel is a beautifully crafted story of love, betrayal and death at the Imperial Court.
At the core of this epic is Prince Genji, the son of an emperor, whose passionate character, love affairs and shifting political fortunes, offer an equisite glimpse of the golden age of Japan.
Royal Tyler's superb new translation is scrupulously true to the Japanese original but appeals immeadiately to the modern reader.
This edition also includes notes, glossaries, character lists and a chronology to enable the reader to appreciate the richness of this classic of world literature.
Information
Format: Paperback
Pages: 1216 pages
Publisher: Penguin Books Ltd
Publication Date: 26/11/2002
Category: Classic fiction (pre c 1945)
ISBN: 9780142437148
Other Formats
Hardback from £11.79
EPUB from £1.07
Paperback from £6.99
Free Home Delivery
on all orders
Pick up orders
from local bookshops
Reviews
Showing 1 - 5 of 5 reviews.
Review by banshea
16/06/2015
The story is wonderful, at once grounded in an idealized Heian Japan and universal. The trappings are peculiar to the setting, of course, but the motivations, emotions, and responses of the characters are perfectly intelligible to the modern reader. In other words, it's everything you'd expect from a work that has the distinction of being the world's oldest novel.That's the good news. The bad news is that it's long and complex, which makes it a difficult read. Murasaki Shikibu didn't use any names for her characters when she wrote it. Instead she referred to characters rather obliquely by things like title or place of residence, which often change over the course of the story.I've found that it's a book you cannot put down and come back to later and be able to pick up right where you left off. It's too complex for that. Rather, you have to be able to dedicate yourself to reading the book from start to finish, which is difficult to do given its length.Casual readers will probably prefer an abridged version of this classic. Liza Dalby's Tale of Murasaki is also an excellent and accessible introduction to this work.
Review by elevbess
16/06/2015
The Tale of Genji, what can you say? It might be considered the world's first psychological novel, but some consider it deadly boring, some consider it a soap opera set in Heian Japan, others can never get past Genji's so-called "Oedipus Complex." I find a wonderful, relaxing escape to a long ago society. Dig beneath the surface of Genji's numerous romantic escapades and you'll find that he really is a well drawn character, with as many flaws and merits. His journey is worth following.If you are only going to read one translation of the Genji, make sure it's the Royall Tyler one. This is a beautiful, beautiful translation. Seidensticker can be rather dry, and Waley can have some rather jarring anachronism, but this one just flows so smoothly and is true to the somewhat intuitive style of the original Japanese. This is also a book that you shouldn't read in a hurry. Take the time to savor it. Maybe even just a chapter here, a chapter there. Curl up with a cup of tea and just drift for a while.
Review by JessicaMarie
16/06/2015
The Tale of Genji is a rare glimpse into eleventh century Japan. Murasaki Shikibu does a magnificent job describing the life at the imperial court. The story follows the life of Genji who is the son of the emperor, but his mother is of very low rank so he is unable to become an heir. Even though Genji cannot become an heir to the thrown he is the jewel of the imperial court, being talented in everything that was valued at the time including: poetry, dance, koto playing, and a keen eye for ascetics. Some could say that Genji is the equivalent of the European Renaissance man.The good looks that the people at court thought would lead to Genji having a short life, proved to be wrong and ended up turning Genji into s true ladies man. Most of the story is consumed by Genji's affairs, which can be a bit tiresome and confusing. Genji chose some rather unexpected characters to become his lovers including a little girl that he brings to the palace to shape into the perfect wife. One good thing about all of Genji's affairs is it gives the reader the chance to read many different Waka, which are two lined poems that would be exchanged between lovers.I would definitely recommend this book to anyone who is interested in Japanese history, since it is written by someone who lived during the Heian period. This book is also good for anyone who truly enjoys classics because it is considered one of the WORLD's first novels. However if you don't mind lengthy books, I would recommend reading the unabridged version which has 54 chapters compared to the 12 available in this version. One plus to the abridged version is it is full of woodblock printings inspired by the novel.
Review by missizicks
16/06/2015
It took a while to read, but it was worth the effort! An interesting insight into the Imperial court and society in Heian era Japan. I'm not sure I'd have enjoyed being a woman in that time and place!
Review by VikkiLaw
16/06/2015
Once I figured out how to hold this book with one hand and a nursing newborn in the other, I tore through this book.