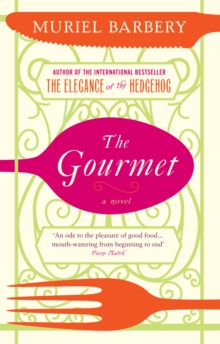 Description
France's greatest food critic is dying, after a lifetime in single-minded pursuit of sensual delights.
But as Pierre Arthens lies on his death bed, he is tormented by an inability to recall the most delicious food to ever pass his lips, which he ate long before becoming a critic.
Desperate to taste it one more time, he looks back over the years to see if he can pin down the elusive dish. Revealing far more than his love of great food, the narration by this larger-than-life individual alternates with the voices of those closest to him and their own experiences of the man. Muriel Barbery's gifts as an evocative storyteller are put to mouth-watering use in this voluptuous and poignant meditation on food and its deeper significance in our lives. A delectable treat to savour.
Information
Format: Hardback
Pages: 144 pages
Publisher: Gallic Books
Publication Date: 01/09/2009
ISBN: 9781906040260
Free Home Delivery
on all orders
Pick up orders
from local bookshops
Reviews
Showing 1 - 3 of 3 reviews.
Review by RobinDawson
16/06/2015
This is a little souffle of a novel, but having read The Elegance of the Hedgehog first, this was disappointment. The writing about food is excellent (if you care about that sort of thing - and I don't), but the food critic is such an awful man - so egotistical and hurtful to his family I began to wish he'd choke on a chicken bone and get it over with....and in the end the long-sought dream food comes from the supermarket! Really!
Review by eleanor_eader
16/06/2015
Two stars, for actually managing to inflict literary indigestion. Muriel Barbery herein tries - and fails - to do with the dying reflections of a food critic, what Patrick Suskind achieved so sensuously with <i>Perfume</i>, or Joanne Harris with the ribald sweetness of <i>Chocolat</i>. There were, in <i>The Gourmet</i>, a few, spare moments of enjoyment (particularly the first taste of whisky), but the significant difference is that other authors have managed to provoke the senses of their readers while telling a story <i>worth</i> reading, and there is simply nothing – absolutely nothing – about the characters' thoughts or reminiscences that engage the reader here. Instead we have pages of pointless wallowing in food and a shared disappointment with the characters that wanted more from Pierre Arthens, because we are left feeling the same way about this book.
Review by CloggieDownunder
16/06/2015
The Gourmet is the first novel by Muriel Barbery. Pierre Arthens, France's greatest food critic, is dying. As he lies on his deathbed in his Rue de Grenelle apartment, he is tormented by his inability to recall the most delicious food to pass his lips, long before he became a critic. The story is narrated by Arthens himself, as he recalls meals and times in his life in an effort to identify the elusive dish; the people and things in his life also recount their experiences and opinions of him. Barbery's own childhood in Morocco is in evidence, and the apartment building and the concierge make a further appearance in Barbery's next and very popular novel, "The Elegance of the Hedghog". I wondered how the musings of a dying man could make much of a novel, but this is a feast of words, a banquet of mouth-watering and evocative descriptions. Alison Anderson has done a first class job of translation. This is truly a treat to relish.