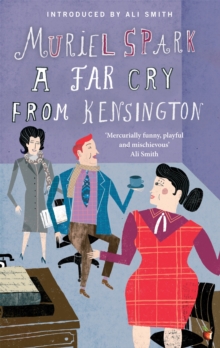 A Far Cry from Kensington
Paperback
Description
When Mrs Hawkins tells Hector Bartlett he is a 'pisseur de copie', that he 'urinates frightful prose', little does she realise the repercussions.
Holding that 'no life can be carried on satisfactorily unless people are honest' Mrs Hawkins refuses to retract her judgement, and as a consequence, loses not one, but two much-sought-after jobs in publishing.
Now, years older, successful, and happily a far cry from Kensington, she looks back over the dark days that followed, in which she was embroiled in a mystery involving anonymous letters, quack remedies, blackmail and suicide.
Information
Format: Paperback
Pages: 208 pages
Publisher: Little, Brown Book Group
Publication Date: 01/11/2009
ISBN: 9781844085514
Other Formats
Paperback from £13.85
Hardback from £9.85
CD-Audio from £13.19
EPUB from £5.99
eAudiobook MP3 from £11.72
Free Home Delivery
on all orders
Pick up orders
from local bookshops
Reviews
Showing 1 - 3 of 3 reviews.
Review by rainpebble
16/06/2015
Muriel Spark is an author whose books are 'to die for'. I really loved reading A Far Cry From Kensington. I enjoyed how she drew her characters, how she played them, the story, the entire work. I am so happy she wrote quite a few books and I will be seeking them all out.
Review by lkernagh
16/06/2015
After reading a number of rather heady books of late, a change for something lighter was in order. Sparks' <i>A Far Cry From Kensington</i> was just the right balance of circa 1950's quasi chick-lit piece with the sharp, witty humor that is, IMO, Sparks' trademark. I say 'quasi chick-lit' as the story is the reminisces of our narrator, Mrs. Hawkins as she was known at the time, narrated from her abode in Italy as she re-lives her adventures as a young woman and widowed war bride working in the world of London publishing and living in a boarding house in South Kensington. The characters are rich and easy to visualize, as are Mrs. Hawkins adventures as an editor in what can only be described as the wacky world of literary London. This book has it all: love, fraud, mystery, anonymous letters, blackmail, death, quack medical remedies and we mustn't forget shady literary doings! Practical and forthright Mrs. Hawkins finds herself drawn into matters that really shouldn't concern her, which in turn becomes her problem. Her dislike of Hector Bartlett, an author of suspect literary promise whom she calls a <i>'pisseur de copie'</i> (translated to mean "urinates frightful prose") provides insight into how small and tight the literary world is and the repercussions an off-hand comment can have on one's life, even as one feels compelled to stand by their convictions. True to form, Sparks does not disappoint with this wonderful slice of 1950's London life. Recommended.
Review by SandDune
16/06/2015
Written in 1988, the narrator Mrs Hawkins reflects back over 30 years to when she was an overweight, 28 year old war widow living in a respectable but somewhat down-at-heel rooming-house in Kensington. Her current life is clearly a far cry from her life then, and even by the 1980's Kensington is also a far cry from what it was in the 1950's. (I looked it up and the average property price in Kensington today is a somewhat staggering £1,500,000 - and that includes flats!) As an editor in a small publishing company she is increasingly irritated by the untalented and annoying Hector Bartlett, eventually accusing him of being a pisseur de copie, literally a urinator of journalistic copy. But the offended Hector has a powerful friend in the shape of the best-selling novelist Emma Loy who manages to get Mrs Hawkins sacked from not just one but two publishing jobs.As the problems multiply in Mrs Hawkins's working life, so also do her problems at home. Wanda, the Polish dressmaker living on the floor beneath her, starts to get threatening letters and phone calls - a mystery which Mrs Hawkins attempts to resolve. And in doing so her professional and private life become entangled in a surprising way.I did enjoy this book - it's a really evocative portrait of this period - and I like Muriel Spark's writing style. There are some gently funny sections. But somehow the plot lost me about three quarters of the way through: the denouement just seemed too unlikely and not in keeping with the characters as they had been established earlier in the book. So a good read but not a great one.
Also in the VMC Designer Collection series | View all