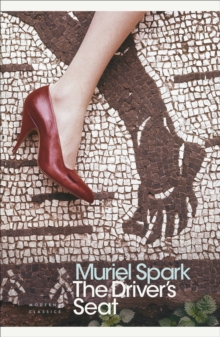 The Driver's Seat
Paperback
Description
Described as 'a metaphysical shocker' at the time of its release, Muriel Sparks' The Driver's Seat is a taut psychological thriller, published with an introduction by John Lanchester in Penguin Modern Classics.Lise has been driven to distraction by working in the same accountants' office for sixteen years.
So she leaves everything behind her, transforms herself into a laughing, garishly-dressed temptress and flies abroad on the holiday of a lifetime.
But her search for adventure, sex and new experiences takes on a far darker significance as she heads on a journey of self-destruction.
Infinity and eternity attend Lise's last terrible day in an unnamed southern city, as she meets her fate.
One of six novels to be nominated for a 'Lost Man Booker Prize', The Driver's Seat was adapted into a 1974 film, Identikit, starring Elizabeth Taylor.Muriel Spark (1918 - 2006) wrote poetry, stories, and biographies as well as a remarkable series of novels, including The Prime of Miss Jean Brodie (1961), The Mandelbaum Gate (1965) which received the James Tait Black Prize, and The Public Image (1968) and Loitering with Intent (1981), both of which were shortlisted for the Booker Prize.
Spark was awarded the T.S. Eliot Award for poetry in 1992, and the David Cohen Prize for literature in 1997.
If you enjoyed The Driver's Seat, you might like Spark's The Prime of Miss Jean Brodie, also available in Penguin Modern Classics.'An extraordinary tour de force, a crime story turned inside out'David Lodge'Her spiny and treacherous masterpiece'New Yorker
Information
Format: Paperback
Pages: 128 pages
Publisher: Penguin Books Ltd
Publication Date: 27/04/2006
ISBN: 9780141188348
Other Formats
Hardback from £10.19
CD-Audio from £10.49
Free Home Delivery
on all orders
Pick up orders
from local bookshops
Reviews
Showing 1 - 5 of 7 reviews.
Previous | Next
Review by clfisha
16/06/2015
Sadly this tale was an example of a personality clash, I could appreciate it but not like it. The writing style expertly reflects the main character: with clean, matter of fact sentences ones butfelt short and skittish, even though when I look back aren't *that* short. The character was too far removed from my experience, I could not relate at all. Perhaps the tale was set too much in the 70s with alienation of modern, secular life amd something that I cannot share constantly connected to the world as I am. The impact of the 'why' dunnit plot also sadly fell flat, as I quite familiar with it, good ideas never die after all.I must stress that its not a bad book though, the twisting of modernity and it's freedoms, the rejection of standard female story tropes. There is no white knight here and family or love is not a glib panacea (which is refreshing even if men get short shrift).So I will be trying more Murial Spark but this one was not for me.
Review by edwinbcn
16/06/2015
The driver's seat is a short novel about a ludicrous woman, perceived by most people as "garish" who is frantically looking for her murderer. To be murdered is not so much her fate, she is creating that situation to happen, shaping her own destiny.If not a comment on predestination, as the lousy introduction to the Penguin Classics editions, by John Lancaster, suggests, then perhaps, more likely it is the world turned upside down, where the female victim takes the initiative to the murder in the role of the agent, and the male perpetrator appears to be the victim of the situation. The novel also strongly urges the reader to think about Lise's role and behaviour and that incredibly male chauvinistic comment that "she asked for it." Not just the murder, but all her trouble, and the various men who want to have sex with her.All of the action takes place within barely 24 hours. While tragic and shocking, the book is also hilarious. However unreal, Lise appears real enough to me, albeit perhaps a bit exaggerated. There is some suggestion that she is not in her normal do, and that she has had this problem before: at her work it is concluded that she needs another holiday. Her infliction is not exactly described, but likely a depression, or similar debilitating condition. But rather than gloom, the world turned upside down, her condition is expressed in the brightest colours, the most garish and illogical behaviour. It is as if her life is switched into top-gear, and the intense vigour and over-drive make it catching. A great book.
Review by Melanielgarrett
16/06/2015
I'm not entirely sure I'd say I enjoyed this, so much as was intrigued by, and greatly admired, it. It strikes me as being very much of its time, which is not necessarily a bad thing. I was initially hooked by the opening, and felt the hairs on the back of my neck stand up at the airport when I realised Lise was going so far out of her way to be noticed and remembered by so many strangers. I suspect if I'd read it in the 70s, I'd have been more unsettled by the ending, but having my shock-o-metre set so high over the years by reading perhaps a bit too much modern crime fiction, I felt the ending came a too fast and, ultimately a bit too pat.<br/><br/>However in purely intellectual terms, you feel you are in the stylistic/intellectual realms of Ionesco and Vaclav Havel, and also fleetingly of Katharina Blum. <br/><br/>However, as John Lanchester says in his fascinating introduction, it's nigh on impossible to discuss this novella properly without resorting to spoilers, so I'll leave it at this: the time you devote to this will be well-rewarded.
Review by tatteredpage
16/06/2015
It's an odd little story with a surprise twist at the end that makes you want to reread the entire thing wondering where you missed the clues.
Review by grheault
16/06/2015
Weird. Interesting premise, a pre-mystery with plenty of psycho dialog where characters inexplicably appear, act oddly, talk past each other. One wonders whether one is reading a dream from which the dreamer will wake in the end. Not especially enjoyable unless you like 1960's clueless, demanding, English-speaking tourist does Italy scene, back in the old days of prop jets, before facebook, and cellphones, and airport security. Thankfully a short book, surreal, with a properly gory, and perversely 'happy' ending. <br/>
Also in the Penguin Modern Classics series | View all