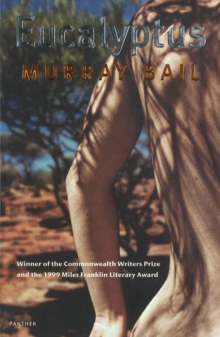 Description
On a property in New South Wales, a man named Holland lives with his daughter Ellen.
As years pass and Ellen grows into a beautiful young woman, her father announces his decision: she will marry the first man who can name all the species of the eucalypt, down to the last tree.
Information
Format: Paperback
Pages: 272 pages
Publisher: Vintage Publishing
Publication Date: 20/05/1999
ISBN: 9781860464959
Free Home Delivery
on all orders
Pick up orders
from local bookshops
Reviews
Showing 1 - 5 of 6 reviews.
Previous | Next
Review by Jargoneer
16/06/2015
From the synopsis it would be easy to dismiss <i>Eucalyptus</i> as a modern Australian fairy tale - "On a property in New South Wales, a man named Holland lives with his daughter Ellen. As years pass and Ellen grows into a beautiful young woman, her father announces his decision: she will marry the first man who can name all the species of the eucalypt, down to the last tree."This fairy tale aspect of the novel is merely a framework on which Bail can discuss Australia; relationships, between father and daughter, between man and woman; and most of all, storytelling. Eventually Holland meets his match Roy Cave, a man who shares his love of eucalypts, and who is certain to win the hand of his daughter. As Cave names each tree to her father a stranger is using each tree as a jumping-off point to tell a story to Ellen. Holland's admiration for Cave grows as he names one after another after, while Ellen is beguiled and bewitched by the stories told to her. Are they true? What do they mean? What happens afterward? Ellen becomes the reader, we become Ellen.The power of the imagination is central to Bail's thesis. Holland and Cave know the names of the trees, but the stranger and Ellen know there is something more, and it is here that human traits like love exist. Bail contrasts writing with photography, writing is boundless but photography is doomed to only show what is in the picture. Holland and Cave are photographers who can only see what is in front of them, Ellen and the stranger are writers of their own lives.You can criticise Bail for his characters - Ellen is totally passive, Holland lacks any understanding , for example - but they aren't supposed to be completely realistic, they are playing roles in fairy tale. You can charge Bail with creating an artifice but isn't all writing essentially an artifice. In the end, <i>Eucalyptus</i> is that genuinely rare specimen, a modern classic - ingenius, original, poetic - a book to come back to again and again.
Review by dylanwolf
16/06/2015
A book with an interesting theme, that of the several hundred different species of Eucalyptus, but one that I would only count as average. The first half of the novel introduced and developed the story of widower Holland who moves to the outback and develops an obsession with acquiring land and growing every known species of Eucalyptus. We are never sure why he does it or how he makes a living out of it. Once established he brings his daughter Ellen out to live with him and raises her amongst the trees in isolation. Once she arrives at marriagable age he decides upon an unusual task for he would-be suitors to accomplish. They must correctly identify each Eucalyptus tree growing his land. Many fall by the wayside but as the challenge gains nationwide publicity a man named Mr Cave arrives and appears equal to the job. Meanwhile Ellen is being secretly courted by a mysterious stranger. There is more to this novel than this ridiculously romantic outline would suggest but the novel never follows up the darker undertow that the story drags with it. The smart device of changing from a straight forward narrative in the first half of the book to shorter, more diverse stand-alone stories in the second as Ellen is seduced by story-telling is welcome. Nevertheless the relationship between Ellen and her father could have been more fully investigated. Cataloging the various Eucalypts was an interesting past-time although the repeated occurence of some jarred against the contention of there being hundreds to choose from. The prosaic reality, that many are boring and so similar to each other that their differences are only apparent to a specialised biologists, is always less absorbing than the fantastic specificity - a couple of dozen species are noteworthy and resplendent. Eucalyptus is an attempt to marry fairytale with symbolism but fails to properly pull either out from fairly uninspired writing. I quite enjoyed the read but less than I might have imagined at the outset or given the aspirations of the novel.
Review by EscapeBookClub
16/06/2015
We read this in January 2000 and when we got to our meeting we were greeted with whiffs of Eucalyptus spray ..... and eucalyptus leaves were scattered all over the floor !! The group was divided on this book. Some of us loved it and rated it quite high .... enjoying the language of the book .... while the others found it average amd couldn't understand what the rest saw in the book. We had a good discussion, though!
Review by drachenbraut23
16/06/2015
I was very excited about starting to read the book. I did not finish it. The storyline itself promised a rich, interesting and different love story. Unfortunately the story was executed in a rather boring and tidious way.
Review by moosenoose
16/06/2015
Another dull book that I just could not get into. There are only two main characters the father and daughter. The father's obsession is Eucalyptus trees so instead of letting his daughter choose a husband, he decides to marry her to whichever man can name every tree he has planted! It was meant to be a different, but interesting love story. It was simply boring and would only interest those who are really into Eucalypts! Not worth the time.