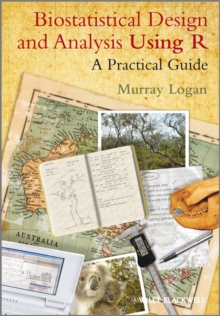 Biostatistical Design and Analysis Using R : A Practical Guide
Paperback / softback
Description
R the statistical and graphical environment is rapidlyemerging as an important set of teaching and research tools forbiologists.
This book draws upon the popularity and freeavailability of R to couple the theory and practice ofbiostatistics into a single treatment, so as to provide a textbookfor biologists learning statistics, R, or both.
An abridgeddescription of biostatistical principles and analysis sequence keysare combined together with worked examples of the practical use ofR into a complete practical guide to designing and analyzing realbiological research. Topics covered include: * simple hypothesis testing, graphing * exploratory data analysis and graphical summaries * regression (linear, multi and non-linear) * simple and complex ANOVA and ANCOVA designs (including nested,factorial, blocking, spit-plot and repeated measures) * frequency analysis and generalized linear models. Linear mixed effects modeling is also incorporated extensivelythroughout as an alternative to traditional modelingtechniques.
The book is accompanied by a companion websitewww.wiley.com/go/logan/r with an extensive set of resourcescomprising all R scripts and data sets used in the book, additionalworked examples, the biology package, and other instructionalmaterials and links.
Information
Format: Paperback / softback
Pages: 574 pages
Publisher: John Wiley and Sons Ltd
Publication Date: 13/04/2010
Category: Ecological science, the Biosphere
ISBN: 9781405190084